Physical therapists are specialists in helping people move and gain or maintain a healthy, active lifestyle. They develop treatments that support people in learning to do the activities they want to do, whether that is improving their cycling skills or returning to work after an injury or illness. Physical therapists collaborate with other healthcare professionals to assist you in gaining or regaining your ability to move and participate completely in your life. Within the physical therapy profession, therapists have chosen to become highly specialized in different areas of practice. For example if your son or daughter has CMT you would want to consult a physical therapist who is a pediatric clinical specialist (PCS). As an adult with CMT, an orthopedic clinical specialist (OCS) or a neurologic clinical specialist (NCS) might both be helpful depending on their clinical experience with people with CMT and/or other progressive muscle diseases.
Exercise
People with CMT often have progressive loss of strength, balance and sensation. Physical therapists can design exercise programs to help people adjust to these physical changes. Strengthening exercises help maintain muscle function and reduce the development of joint motion loss from muscle weakness. Sensory changes in your feet may make walking and balance more difficult, and it is important to understand how to manage your daily activities within the limits of impaired sensation. Learning to use your vision to substitute for missing sensation in your feet can improve balance and help decrease falls. A physical therapist can develop an individualized program to address these issues.
Contracture management
It is important to prevent or slow down development of contractures (loss of motion of your joints due to the shortening of muscles, ligaments or other tissues around the joints), especially for the joints in your hands and feet as they significantly complicate shoe wear, walking and dressing. Physical therapists can help by teaching you how perform daily range of motion exercises or using positioning to slow the progression of loss of motion. They will work closely with Occupational Therapists to help you maintain strength, motion and function in your hands. For your feet and ankles, they work closely with the orthotist (brace maker) or the orthopedic surgeon if exercise and positioning are not enough and surgery is needed.
Endurance
It is important for everyone to perform an adequate amount of physical activity every day. The Department of Public Health recommends at least 30 minutes of daily activity, such as walking, swimming, cycling or other recreational activity. For children, 60 minutes daily is recommended. Physical therapists teach you how to safely participate in the kinds of physical activities you enjoy so you get enough exercise to maintain an optimal level of endurance and fitness. They collaborate with personal trainers and other fitness instructors so that you can safely use weight training equipment, treadmills or other gym equipment.
Assistive devices
There are numerous assistive devices that can be used to improve your balance and decrease fatigue while walking. Assistive devices such as braces and crutches or canes increase your ability to walk with a reduced risk of falling and fatigue from weakened foot or leg muscles. The physical therapist can ensure that canes, crutches or walkers fit you well and that you have the information you need to decide which device is best for you. They will also assist with the fitting and use of wheelchairs or scooters for longer distance transportation should that become necessary.
Pain
Sometimes people with CMT will have pain from overuse or from altered activity patterns caused by muscle weakness or contractures. Physical therapy offers many techniques for reducing pain without medication.
Research
Many people with CMT are interested in learning about research studies that are currently being conducted. One excellent source of information about Clinical Research or Clinical Trials is www.clinicaltrials. gov. This resource is provided by the U.S. National Institutes of Health, an agency of the United States government. This site provides updated information on all clinical trials registered with the government and can be searched by disease or condition.  
Resources
The main website for the APTA, www.apta.org, is also a valuable resource for consumers. The APTA is organized into sections around specialized areas of practice, for example orthopedics, neurology and pediatrics. Each of these sections hosts its own website and offers an extensive set of resources within that specialty. These section websites can be accessed from the APTA homepage and are currently located under the heading About Us, Chapters and Sections, or at the bottom of the homepage.
More information about physical therapy for consumers can be found on a website hosted by the American Physical Therapy Association (APTA), www.moveforwardpt.com. Here, patients and families living with CMT can search for a physical therapist in a specific geographic region and can access a special video library covering a wide range of topics, including tips on toys and activities for children with disabilities. You can also find a physical therapist by searching HNF's Healthcare Provider Directory.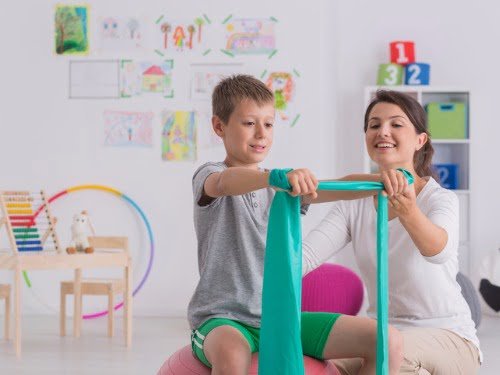 Children with CMT who are struggling with the activities of daily living may greatly benefit from a physical therapy program.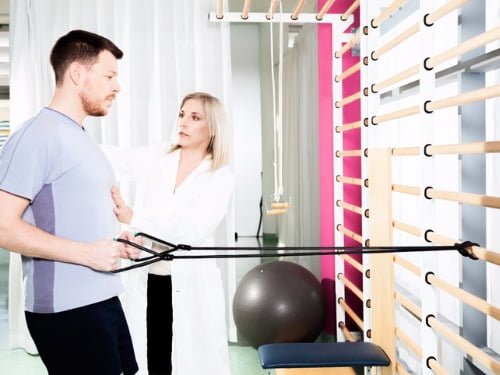 Read about the parental concerns regarding physical therapies for children with Charcot-Marie-Tooth Disease.