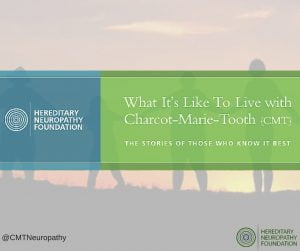 "What is it like to live with Charcot-Marie-Tooth?"
That is a good question that usually doesn't come with a clear answer.
CMT affects nearly 1 in every 2500 people in the United States and 2.6 million people worldwide, yet it remains a relatively unknown and misunderstood disease. Furthermore, those living with CMT often struggle to accurately explain what it's like to live with the progressive, hereditary disorder.
Allison Moore, CEO of the Hereditary Neuropathy Foundation (HNF), wanted to solve this problem for CMT patients, their families, and the medical community.
But how?
The answer was to commission HNF's first Quality of Life research study about what it's like to live with CMT. While quantitative research is critical to obtaining knowledge related to more effective treatment outcomes, it doesn't speak to the experience of what it's like to actually live with CMT.
The study is a collection of over 80 intimate and candid interviews, painting a vivid picture of those living with CMT. These interviews brought to light a range of different experiences: from devastating and heart-wrenching, to courageous and inspiring.
The goal of our Essential Guide is to help CMT patients learn more about how the disease affects others and help educate health professionals about some lesser-known symptoms, emotions, and experiences of people with CMT.
In this guide, you will learn about:
The physical, emotional, and social effects of living with CMT.
How delayed diagnosis, incorrect diagnosis, and lack of knowledge by physicians affect CMT patients.
Attitudes and coping methods.
Intervention and treatments.
Making positive changes.
CMT still lurks in the shadows for much of the general public. One of our most important missions at HNF is to show people what it's like to live with Charcot-Marie-Tooth (CMT). We hope this guide serves as your foundation of hope, education, and inspiration.
Download your FREE copy of our guide HERE.