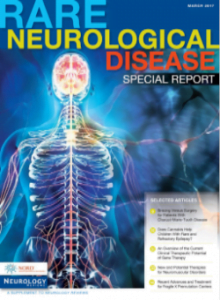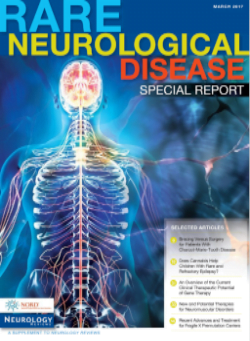 Our community has a special opportunity to educate health care professionals about CMT!  Just released, the third annual Rare Neurological Disease Special Report—a widely-read supplement mailed out with March's Neurological Reviews magazine—has CMT taking a front-row position with several articles discussing the latest developments in CMT treatments and improving CMT care. 
Featured articles about CMT and HNF's related initiatives include:
An update on the on-

going PXT-3003 Phase III clinical trial for CMT1A

(pg. 7)
A review of key patient-reported findings from HNF's "Inaugural Patient-Centered CMT Summit" are showcased to encourage improvements in research and care. (pg. 8)
Orthopedic surgeon and HNF Summit speaker Glenn Pfeffer, MD assessing "Bracing Versus Surgery for Patients with Charcot-Marie-Tooth Disease" (pg. 9)
An overview of the current clinical therapeutic potential of gene therapy for rare neurological diseases (pg. 31)

, and,
Be sure to access full magazine by
download here
to read these and many more informative articles about caring for and treating rare neurological diseases and disorders!