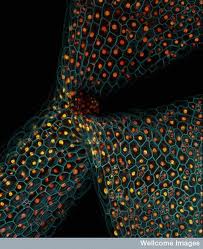 Thanks to collaborative efforts of the University of Michigan Consortium for Stem Cell Therapies and molecular research scientists at Michigan-based Genesis Genetics, scientists are one step closer to understanding Charcot-Marie-Tooth disease.   A stem cell line has been placed on the U.S. National Institutes of Health's registry, making the cells available for federally-funded research.
The line was derived from a cluster of about thirty cells removed from a donated embryo, created for reproductive purposes, roughly the size of the period at the end of this sentence,. When testing showed the embryo to be unsuitable for implantation due to a genetic disorder, it was donated.
This stem cell line, known as UM11-1PGD, carries the gene defect responsible for Charcot-Marie-Tooth (CMT).   Because the stem cell line carries the unique characteristics of CMT, it is very useful in the study of the disease's progression.  This may lead to screening techniques and hopefully, a cure.
The University of Michigan Consortium for Stem Cell Therapies is part of the A. Alfred Taubman Medical Research Institute. In an April 25, 2012 press release, Dr. Eva Feldman, who sees patients with CMT as part of her clinical practice at University of Michigan Medical School, said, "This is another major step forward for medical science in Michigan.  It opens up another avenue for researchers to really begin exploring the causes and progression of those diseases, with the ultimate goal of finding new therapies for patients."
A. Alfred Taubman, founder and chair of the Taubman Institute was noted as saying, "this new milestone means much to the University and the state of Michigan, but also to the world.  We hope it is the first of many lines that we can contribute to the global efforts to improve human health."