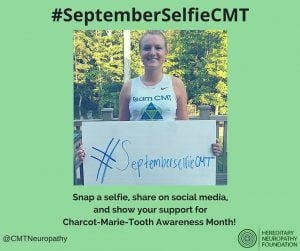 Kate Farren is a high school senior who spent last summer with her aunt in New York.
Her Aunt Ally has Charcot-Marie-Tooth disease. Kate witnessed first-hand the struggles and challenges her aunt faced every single day living with CMT. She saw how difficult it was for her aunt to do simple tasks like opening a jar, or walking down the stairs.
But Ally isn't just Kate's aunt.
She is also HNF's founder, Allison Moore.
Kate is on a mission to raise awareness for her aunt and the CMT community during September's Charcot-Marie-Tooth Awareness Month by sharing the hashtag #SeptemberSelfieCMT on social media.
All you have to do is snap a selfie with #SeptemberSelfieCMT in the photo and share it on all your social media pages. Be sure to include the hashtag in your post, and tag The Hereditary Neuropathy Foundation so we can share it on our social channels too!
We are in the homestretch of CMT Awareness Month.
Come join Kate, HNF, and the CMT community for the #September SelfieCMT campaign.
Let's increase awareness, raise research funds, and find a cure for CMT!