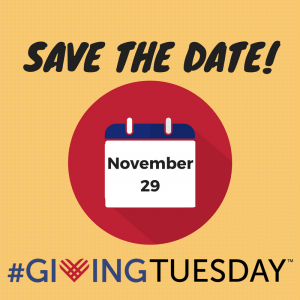 #GivingTuesday: Time To Give Back This Holiday Season
The Hereditary Neuropathy Foundation is proud to continue our support of #GivingTuesday on November 29th. #GivingTuesday is a movement about celebrating and supporting philanthropy during the holiday season.
Started in 2012, #GivingTuesday unites countries around the world by sharing our capacity to care for and empower one another, and using the power of social media to amplify the small acts of kindness by organizations, families, and individuals.
All of us at HNF have so much to be thankful for this holiday season.
From the new initiatives taking off like CMT-Connect, our growing HNF Centers of Excellence, and our first Patient-Centered Charcot-Marie-Tooth Summit held this fall, we couldn't be more grateful for all of you who generously donate your time and resources to help spread awareness and raise funds for CMT research.
And we still need your continued support!
You can help individuals living with CMT by donating to HNF's Therapeutic Research in Accelerated Discovery (TRIAD) program on our donation page HERE.
Sometimes we feel what we give won't make a difference, or what we give isn't enough…
But it doesn't matter how much you give, or what you give.
Only that you give.
Don't forget to share the hashtag #GivingTuesday with your friends and families on all your social media channels and help spread the message of sharing and caring this holiday season!