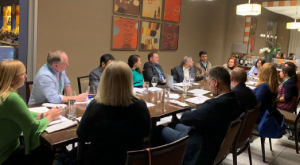 Charcot-Marie-Tooth (CMT) is a childhood disease. It actually starts in utero and many children are affected very early in life. For that reason, on October 23, 2019, the HNF team hosted a cocktail hour and dinner at the Child Neurology Society Meeting to discuss the unmet needs of the pediatric CMT population with a select group of expert pediatric neuromuscular neurologists and other stakeholders. HNF presented critical data from the Global Registry for Inherited Neuropathies (GRIN), the Inspire CMT online discussion community and important findings from the Externallyled Patient Focused Drug Development Meeting (PFDD) for the FDA. Pediatric and young adult CMT and inherited neuropathy patients can have difficulty with social and emotional challenges, which can have lasting effects throughout their adult lives: social withdrawal, loss of friends, inability to keep up with peers in school and sports, public humiliation, bullying and fear of the future. New treatments should focus on the following unmet needs: ability to walk unaided, ability to balance/stand, improved hand function, respiratory weakness and other autonomic neuropathy effects, fatigue and pain. 
Our shared vision is to collect perspectives on treatment options and to support pediatric drug development for participants under the age of 18. HNF with its team of pediatric experts have developed a stellar program to support the pediatric unmet medical need that is crucial in improved medical care guidelines, therapy development and for the support of clinical trials. 
STAY-TUNED AS WE UNVEIL THIS VERY IMPORTANT INITIATIVE IN 2020!