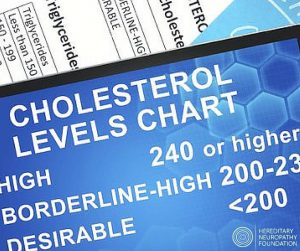 According to the CDC, about one in every eight American adults have high levels of total cholesterol. High cholesterol is a major contributor to heart disease. While high cholesterol levels remains a significant health issue for many Americans, it's important to understand that cholesterol itself isn't the bad guy.
Cholesterol is an essential component of many cellular functions and processes. This waxy substance comes from two sources: food and our bodies.
Foods such as meat, poultry, and full-fat dairy products are the main sources of dietary cholesterol. Our bodies produce cholesterol on a daily basis. According to the American Heart Association, the liver makes about 1,000 milligrams of cholesterol per day.
Your body circulates cholesterol through the blood to:
Form cell membranes.

Create hormones.

Provides insulation for body cells.

Make bile which helps breakdown and digest dietary fat.

Make Vitamin D.
We cannot survive without cholesterol!
But high levels of cholesterol can put you at risk for coronary heart disease, heart attack, or stroke. Excess cholesterol can form plaques between the layers of artery walls. Thickened walls make it harder for your heart to pump blood through your circulatory system. These plaques have the potential to break off and cause blood clots. Clots that block arteries supplying the brain can cause a stroke. If the clot blocks an artery that supplies the heart, it can cause a heart attack. Another condition called peripheral artery disease (PAD) can develop when plaques affect the arteries supplying blood to the legs.
The "Good" And The "Bad"
Most of us have heard of "good" and "bad" cholesterol. This refers to the two types of cholesterol found in our blood:
LDL: Low-Density Lipoprotein
HDL: High-Density Lipoprotein
LDL is known as the "bad" cholesterol. LDL contributes to plaque formation in arteries, making them hard and less flexible. Hardened arteries due to plaque formation is known as atherosclerosis.
HDL is known as the "good" cholesterol because it helps remove harmful LDL from the arteries. Experts believe HDL acts as a scavenger. HDL carries LDL cholesterol away from the arteries and back to the liver. LDL is broken down in the liver and excreted from the body.
Healthy levels of HDL cholesterol may help protect against the risk of heart disease, heart attack, and stroke. Conversely, low levels of HDL cholesterol  have been shown to increase the risk of heart disease.
Knowing your cholesterol levels is important for you and your health care provider to determine the best course of action to lower your risk. Making healthy dietary choices and engaging in physical activity are the first steps to improve your levels. Some people will require cholesterol-lowering medication to reduce the risk for heart attack and stroke.
To learn more about cholesterol and your health, visit the American Heart Association.
Are you a CMT patient with high cholesterol? What steps have you made to improve your cholesterol levels? We'd love to hear from you! Please share your experience on the HNF Facebook page or on HNF's online CMT Inspire Community.