Access over 30 CMT Webinars
Enter Email Below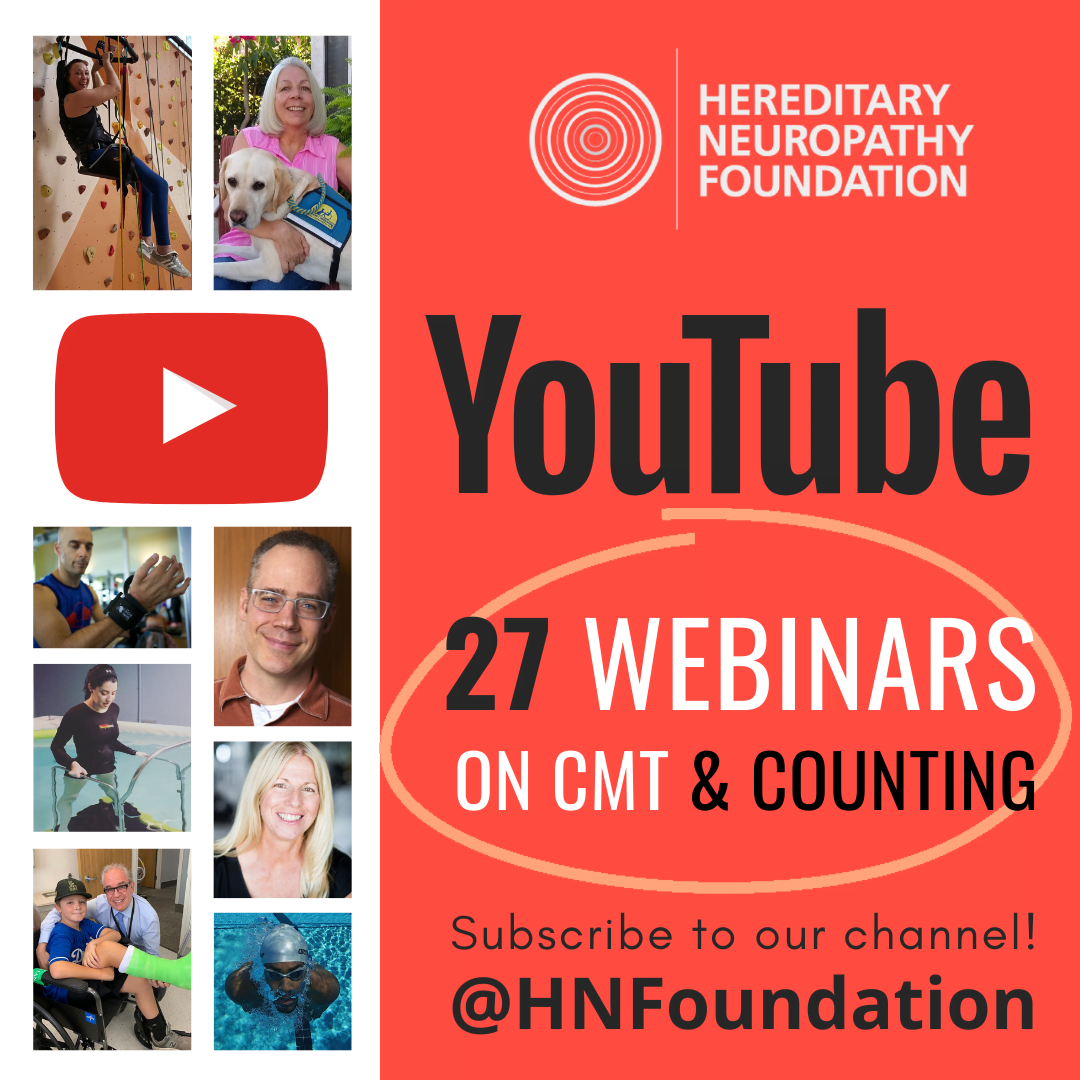 Enter your email to Watch Now!
Watch Past Webinars
Guided Meditation 

Work From Home Job Training & Placement

CMT & Telemedicine

Align with Happiness 

CMT & Capture Proof 

CMT & Genetic Testing 

Healing from the Inside Out 

CMT Resources with Inspire 

Dating & CMT 

How to Exercise in the Pool with Bernadette Scarduzio 

accessibleGO.com: A New Way to Travel with Disabilities 

Bemer Technology 

Panetta Physical Therapy 

CMT & Balance 

CMT & Your Nutrition 

CMT&Me App 

CMT & Exercise

​​Mobi Mats

​​Surgery & CMT

CMT & Finances 

Ability360 Sports & Fitness Center 

Active Hands 

Jamal Hill ~ Paralympic Swimmer

CMT & Microcirculation

CMT & Canine Companion

Mental Health & CMT

Pain Series: Part 1 – Do I need Surgery?

Pain Series: Part 2 – Nutrition 

​​Accessible College

Family Planning #1: IVF

AFOs for CMT

Could your CMT be SORD Deficiency?
EDUCATE. EMPOWER. CONNECT.
HNF is dedicated to supporting educational and enriched online webinars along within-person workshops to support CMT patients, families, caregivers and the stakeholder community.
CMT-Connect is an interactive series designed to shed light on our communities' most important topics. We seek out wellness experts, thoughtleaders, medical professionals, adaptive programs, emerging technologies, disability advocates, and so much more!
We are inspired by our entire CMT community and are here to support them. As patients, we understand firsthand how difficult it can sometimes be to cope with the complexities of disease diagnosis and progression. Our program addresses the emotional, social, economical and physical effects of CMT as it aims for a holistic approach towards self advocacy and wellness.