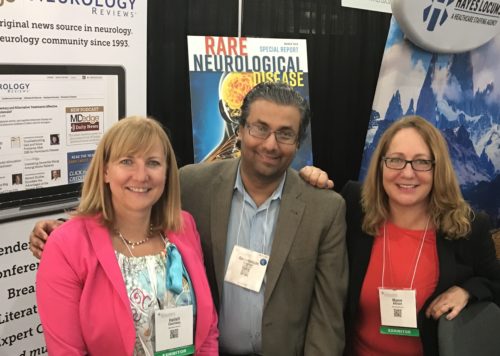 Dr. Raghav Govindarajan board certified neuromuscular physician at University of Missouri. He is the director of a neuromuscular clinic, as well the associate medical director of the neurology outpatient clinic. We caught up with Dr. Govindarajan to discuss his multifaceted approach to treating CMT.
Q: Why is CMT your passion?
A: Providing care to CMT patients is one of the most satisfying aspects of my job, and is one of the reasons why I became a neuromuscular expert. I am determined to find a treatment for CMT.
Q: Tell us what patients will experience when they come to the HNF Center of Excellence at MU Health Care and how they will benefit?
A: Patients will meet our CMT team, all of whom will provide expert and compassionate care. Patients will also have access to latest therapies and research. Patients will be evaluated by neuromuscular physicians who specialize in CMT care and a multidisciplinary team that can treat the patient from varied perspectives.
Q: What other doctors will patients be able to see when they visit the HNF Center of Excellence?
A: Patients will see physical therapists, occupational therapists, orthotists, wheelchair experts and social workers.
Q: What kind of success stories have you seen so far with CMT patients?
A: I have many success stories with CMT, but two instances come to mind. First, a patient who was misdiagnosed as alcoholic neuropathy and neglected came to us for a second opinion. We did electrodiagnostic testing, which pointed towards CMT, and gene testing confirmed it. Second, a patient who had CMT had developed ulcers on the foot due to ill-fitting orthotics. Our wound care experts helped with healing of the ulcers, and our orthotic expert fitted the perfect shoes!
Q: How can patients make an appointment at the HNF Center of Excellence?
A: Patients can make appointment by having their primary care physicians fax their records to us at 573-884-4199. Visit here to schedule and appointment: https://bit.ly/2L28Hqk
Patients can also email me directly at [email protected]