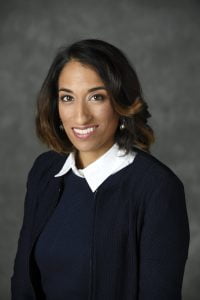 Q: TELL US ABOUT YOURSELF? 
I love my patients and treat them like friends and family. I grew up in Augusta, Georgia, played tennis at a national level and was blessed to be able to join Harvard University. I loved to help others, so I focused my energies on a medical career like my mom who is also a neurologist. I joined the Mayo Clinic College of Medicine for medical school, and then went back to Harvard University for my neurology residency at Mass General/Brigham and Women's hospital. I finally decided to join my husband in Iowa City after 13 years of long distance, where I did my fellowship and received a Muscular Dystrophy Association clinical training grant to study driving ability in those with CMT1A. I wanted to be close to home, so I moved from Iowa City to Florida. I currently direct the neuromuscular medicine division at AdventHealth Orlando. 
Q: WHY DID YOU CHOOSE CMT AS YOUR FOCUS OF STUDY AND RESEARCH? 
I was always interested in peripheral neuropathy and was blessed to team up with a superb mentor, Dr. Michael Shy at the University of Iowa. I learned so much and realized that despite all my previous training, the first time I truly learned about CMT was in Iowa City, where I realized how rare and under-recognized CMT was, which is why I have chosen to study it. 
Q: WHY IS CMT YOUR PASSION? 
For many reasons! I love finding new genes and mutations that cause peripheral neuropathies. Genetics is a new field of neurology, in which "idiopathic neuropathies" can now be explained by genetic mutations. Finding these genes will help us formulate treatments in the future. The scientific correlation between a genetic mutation and its clinical manifestations is fascinating to me. There is a lot to achieve in scientific knowledge and treatments in those with CMT. Also, CMT involves the most wonderful, kind and intelligent people I have ever met. I enjoy helping and treating patients and their families who have CMT. 
Q: TELL US WHAT PATIENTS WILL EXPERIENCE WHEN THEY COME TO THE HNF CENTER OF EXCELLENCE (COE) AT THE ADVENTHEALTH NEUROSCIENCE INSTITUTE?
 The AdventHealth Neuroscience Institute is fully committed to patient excellence, care, and exceeding expectations. Patients will experience a team that is superb beyond expectations. If they are coming from far, they will be catered to with our destination team. When they arrive, they will experience an environment full of love, kindness, friendliness, and softness. They will observe an amazing facility, receive an in-depth physician evaluation, electrodiagnostic testing, genetic testing, and opportunities to get all the multidisciplinary therapies that they need. They will also be involved in any research studies that we may have.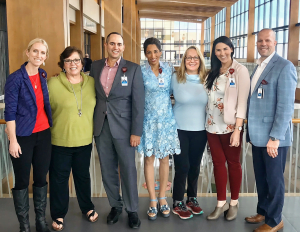 Q: WHAT ARE THE BENEFITS OF A PATIENT BEING EVALUATED AT A HNF COE? 
The benefits are many including a clinical research evaluation, electrodiagnostic evaluation, evaluation for pain, evaluation for potential enrollment in a treatment trial, latest therapeutic advice, physical therapy evaluation, occupational therapy evaluation, genetic testing, podiatry consult, orthopedic surgery evaluation, and orthotics evaluation. 
Q: WHAT OTHER DOCTORS WILL PATIENTS BE ABLE TO SEE WHEN THEY VISIT THE COE? 
Pain physician, podiatrist, orthopedic surgeon, social worker, physical therapist, occupational therapist, spiritual counselor, research evaluation, pulmonologist, orthotist, and much more as needed. 
Q: WHAT KIND OF SUCCESS STORIES HAVE YOU SEEN SO FAR WITH CMT PATIENTS? 
There are many success stories. Some stories involve finding rare genetic mutations for patients and their families, which is important for their future generations. Other success stories involve having patients actually do certain therapies such as physical therapy and occupational therapy, which can help improve leg strength, gait, balance, and hand strength. On follow up visits, patients are excited to show off their ankle-foot orthotics or that a slight adjustment in their pain medication, stretching, or exercise regimen helped them. The diagnosis and visit give many patients the peace of mind that they've needed after years of searching or waiting for a diagnosis or a genetic cause. Some patients who are dealing with pain are overjoyed after visiting our pain specialist to help with the pain management. Patients are typically thrilled to be part of our care team family. 
Q: HOW CAN PATIENTS MAKE AN APPOINTMENT AT THE COE? 
Patients can call our clinic at 407-303- 6729 and specifically request for a visit with Dr. Jerath in the CMT clinic. Multiple family members including children are welcome. Patients can also email Dr. Jerath at [email protected] if they need to communicate with her for any reason.