Introducing Dr. Rebecca Traub, University of North Carolina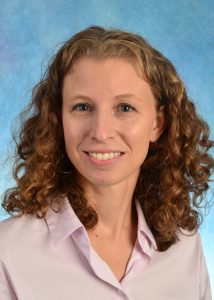 Tell us about yourself?
I completed my training in Neurology and Neuromuscular Medicine at Columbia University, where I became specifically interested in treating patients with peripheral neuropathies. After practicing as faculty at Columbia for a number of years, I moved to the University of North Carolina four years ago. I have enjoyed developing the peripheral neuropathy program at UNC and focusing on building a program dedicated to serving patients with hereditary neuropathies.
Why is CMT your passion?
I have both personal and professional interests in CMT. I have a number of family members affected by CMT and have seen how the disease affects people in my personal life. I have also seen how resilient people with CMT can be in adapting to their disabilities.
Professionally, it is an exciting time to treat patients with CMT. The field of genetics has expanded rapidly in the past ten years and we continue to learn many new things about how hereditary neuropathies can present in diverse ways. Additionally, we are just beginning to see a breadth of new therapies developed for many genetic disorders, including a number of hereditary neuropathies. I am optimistic that there are a number of exciting new research studies and approved treatments on the near-horizon for patients with CMT.
Tell us what patients will experience when they come to the UNC Center
 Patients evaluated at the UNC CMT center may be seen for consultations first trying to establish whether they have an inherited neuropathy or to get genetic testing to establish the CMT type. Once a patient has been established in the center, they will be seen in the interdisciplinary clinic, seeing the physician, nurse, physical therapist, occupational therapist, orthotist, and orthopedist if needed. Additional consultations with other allied health providers or medical specialists can be arranged through the UNC system when needed. We discuss CMT research progress at our visits and what research trials may be applicable to any given patient.
 What do you love most about your practice?
 I love that I get to see a broad range of patients with neuromuscular disorders (many with CMT), coming from diverse backgrounds. I get to treat patients living in the research triangle surrounding Chapel Hill, as well as the broader state of North Carolina and the greater region. I get to work with amazing colleagues in Neurology and other medical and surgical specialties, supporting patients with excellent clinical care and advancing medical research at the institution.
How can patients make an appointment at the UNC Center? 
Patients wanting to be seen at the UNC CMT center should ask their primary care or other treating physician to send a referral either by fax, email or electronic portal. Full instructions are on the Department of Neurology website at: https://www.med.unc.edu/neurology/new-patient-referrals-1/adult-referrals/