HNF's Centers of Excellence
CMT/IN patient community hubs.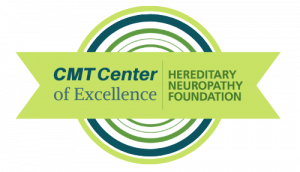 The Hereditary Neuropathy Foundation (HNF) announces its national network designating medical Centers of Excellence (COE) for the hereditary neuropathy patient community. The designated COEs demonstrate strengths in providing excellence in clinical care and research and will collaborate with HNF to expand their role as CMT/IN patient community hubs for clinical care, community engagement, research, and training/education.
Arkansas
Arkansas Children's Hospital *Pediatric Center of Excellence
1 Children's Way
Little Rock, AR 72202-3591
Contact
Dr. Aravindhan Veerapandiyan
Assistant Professor of Pediatric Neurology
Director Comprehensive Neuromuscular Program
Email: [email protected]
Primary Care Appointments:
501-364-1850
Specialty Care Appointments:
501-819-3520
California
Cedars-Sinai Medical Center
127 S. San Vicente Blvd.
Advanced Health Sciences Pavilion, A6600
Los Angeles, CA 90048
Contact:
Tami Kendra
CMT Clinic line: 310-423-4268
Email: [email protected]
Stanford Neuroscience Health Center Neuromuscular Clinic
213 Quarry Road, 1st Floor
Palo Alto, CA 94304
Contact:
Dr. Robert Fisher or Dr. John Day
Phone: 650-723-6469
UCLA Department of Neurology
300 Medical Plaza, Suite B200
Los Angeles, CA 90095
Contact:
Dr.  Anasheh Halabi
Telephone: 310-794-1195 (note: request to be scheduled with Dr. Halabi)
Fax: 310-794-7491
Florida
University of Florida (UF) Health
3009 Williston Road
Gainesville, FL 32608
Contact:
Melissa Hines
Phone: 352-294-5000
E-Mail: [email protected]
University of Miami 
Professional Arts Center (PAC)
1150 NW 14th Street, 6th Floor
Miami, FL 33136
Contact:
Roberto Fernadez
Phone: 305-243-7400
E-Mail: [email protected]
AdventHealth Neurology at Winter Park
1573 W Fairbanks, Ste 210
Winter Park, FL 32789
Contact:
Nivedita Jerath MD, MS
Phone: 407- 303-6729
E-Mail: [email protected]adventhealth.com
North Carolina
Dr. Rebecca Traub
University of North Carolina
194 Finley Golf Course Road, Suite 200
Chapel Hill, NC 27517
Contact:
For clinical appointments
Phone: (984) 974-4401
Referral Fax: (984) 974-2285
Dr. Urvi Desai
Atrium Health Neurosciences Institute-Charlotte
1010 Edgehill Road North
Charlotte, NC 28207
Contact:
For clinical appointments:
Phone: (704)-446-1900
Referral Fax:
Ashley Clyburn
(704)-355-5650
Canada
University of Toronto 
Hernan D. Gonorazky, M.D
A primary healthcare provider must provide a referral to the Neuromuscular Clinic at SickKids. Once that has been obtained an appointment can be arranged.
If you would like to become an HNF Center of Excellence, apply below.