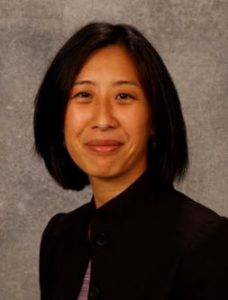 Tell us about yourself?
I am a board certified child neurologist with subspecialty training in electromyography and neuromuscular disorders.
Why is CMT your passion?
CMT is a complex group of disorders both clinically and genetically. In the last decade our understanding of the genetics and pathophysiologic mechanisms has grown tremendously, and it has been exciting to see how this understanding may lead to treatments for patients with CMT. Because the clinical presentations of CMT can vary, I look at how CMT uniquely affects the child and family. In our multidisciplinary clinic with rehabilitation medicine specialists, orthopedic surgeons, physical therapists, occupational therapists and genetic counselors, we work together to improve the care for our patients. I believe this team approach to care is best for CMT patients, and I truly enjoy working with this wonderful group of providers.
Tell us what patients will experience when they come to your center?
When patients come to our clinic, they will first meet our nurse, Lori Yacone, and our coordinator, Alison Ballard. They are the point of contact for our patients should any issues arise. If they are new patients, they will meet the neurologist and the genetic counselor, who will review any diagnostic workup needed to make a diagnosis of CMT, including genetic testing. The genetic counselor will provide counseling to families who are new to the diagnosis of CMT and will assist with testing of other affected family members if requested. At every visit, patients will meet with the rehabilitation specialist, orthopedic surgeon, and occupational and physical therapists. A neuropsychologist is also part of the team, and will see patients who have any concerns about learning issues that may arise.
What do you love most about your practice?
I love seeing the children in the clinic grow into wonderful adults. The providers I work with in the clinic are wonderfully caring people passionate about the care of patients with neuromuscular disease. I feel fortunate to work with them.
How can patients make an appointment at your Center?
Children's Hospital Colorado
Alison Ballard at 720-777-8723 or call the clinic schedulers at 720-777-2806.