HNF's 2nd Pediatric Center of Excellence for CMT is located at the Ann and Robert H. Lurie Children's Hospital of Chicago.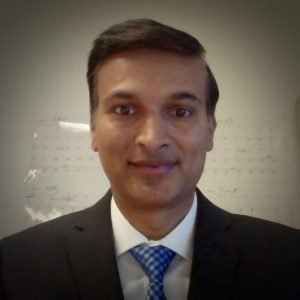 VAMSHI RAO NEUROLOGIST, ASSISTANT PROFESSOR OF PEDIATRICS, NORTHWESTERN UNIVERSITY FEINBERG SCHOOL OF MEDICINE
Q: TELL US ABOUT YOURSELF:
A: After completing medical school, I began my neuromuscular journey, while pursuing a Master's in Biomedical Engineering, by trying to understand the molecular aspects of muscle disease. This was followed by an application of the knowledge gained from animal models to human disease, in Dr. Christine DiDonato's lab. My first contact with neuropathies including CMT happened during my child neurology training. I was immediately impacted on a deep emotional level, watching these resilient children and their parents struggle through the ever-progressive nature of CMT. I was fortunate enough to be trained by, and subsequently work with, Dr. Nancy Kuntz, who had set up a neuromuscular clinic for children at the Ann and Robert H. Lurie Children's Hospital in Chicago. The Lurie Children's Neuromuscular Clinic, which is affiliated with the Muscular Dystrophy Association and Parent Project to Cure Duchenne, has been expanded to include the first-ever, dedicated, peripheral neuropathy multidisciplinary clinic for children in Chicago. The resulting comprehensive care model will prevent delays in diagnosis, help circumvent complications, and decrease the overall burden of CMT for the entire family unit. We have also established a working database that continues to be refined, in preparation for clinical trials. My journey, hopefully mirroring that of CMT, comes full circle in that a continued study of the natural history of CMT will help guide fundamental research, to bring meaningful treatments back to the clinic.
Q: WHY IS CMT YOUR PASSION?
A: Inherited neuropathies, such as CMT, have been especially fascinating as they encompass a wide range of clinical presentations (phenotypes) and a wide range of genetic mutations (genotypes). They have been frustrating, on the other hand, as there have been no meaningful treatments to offer these individuals. Advances in neurophysiologic and genetic techniques have made diagnosis easier than before. Early diagnosis enables early institution of comprehensive care. While comprehensive care does make a dent in the natural progression of disease, it is still very distressing to watch a child lose motor skills over time. What makes it especially hard is that the slow decline fails to receive the attention that other rapidly degenerating neurological conditions garner, even though the impact on the quality of life for the individual and family may in fact be higher. I personally think neuropathies are the next frontier in neuromuscular and genetic medicine, the treatment of which will change the overall impact of the disease. I envision a future with treatments slowing or arresting the natural history of CMT, especially at a younger age, facilitating a seamless transition to adulthood with a better quality of life.
Q: TELL US WHAT PATIENTS WILL EXPERIENCE WHEN THEY COME TO THE PEDIATRIC NEUROMUSCULAR PROGRAM AT LURIE CHILDREN'S.
A: Our initial meeting will be aimed at understanding one's CMT diagnosis. This will be aided by the fact that we have the ability to perform any necessary nerve and muscle studies (nerve conduction/electromyogram, ultrasound, nerve biopsy etc.) and to obtain genetic testing. All children with a confirmed diagnosis of CMT are encouraged to return for follow-up in our dedicated, multidisciplinary neuropathy clinic. This clinical program at Lurie is staffed by pediatric neuromuscular specialists (myself and Dr. Kuntz) in addition to a team of advance practice nurses, physical therapists, occupational therapists, orthotists, dietitians, genetic counselors, metabolic bone health specialists, social workers, a wheelchair consultant and neuromuscular nurses. The neuropathy clinic strives to be a "one stop shop" that will reduce the need for multiple visits. Further consultation with specialists such as orthopedic surgeons, pulmonologists and cardiologists will be available as needed. We will also work with Dr.Christine DiDonato, who leads our basic science initiative in neuromuscular disease and will help with understanding the molecular/ genetic aspects of CMT. Finally, a team of neuromuscular clinical research professionals will be ready to screen each child for eligibility in available neuropathy clinical trials.
Q: HOW CAN PATIENTS MAKE AN APPOINTMENT AT LURIE CHILDREN'S?
A: Call 1-800-KIDS-DOC for an appointment. If there is already a confirmed diagnosis of CMT, call 312- 227-4471. Our clinic location is at the Ann and Robert H. Lurie Children's Hospital of Chicago, 225 East Chicago Avenue, Chicago, IL 60611.