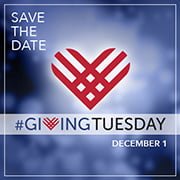 Only one more week to go!
The Hereditary Neuropathy Foundation is proud and excited to kick off the charitable season with #GivingTuesday on December 1st.  #GivingTuesday unites people across the world by sharing our capacity to care for and empower each other.
The act of giving is deeply personal and filled with powerful emotions. Sometimes we feel what we give won't make a difference, or what we give isn't enough…
"If you wait until you can do everything for everybody, instead of something for somebody, you'll end up not doing nothing for nobody." ~ Malcom Bane
It doesn't matter how much you give, or what you give. Only that you give!
We wanted to share some reasons why the CMT Community gives and what #GivingTuesday means to them with you.
By Kristin
"Sometimes we forget to thank the people who make our lives happy in so many ways. I would like take a moment to talk about #GivingTuesday: a day to reflect on the things that are truly important in life.
My family and friends have always been a huge part of my life. They have been my rock when I was on shaky ground. I take comfort knowing we have some of the biggest and bravest fighters working tirelessly to find a cure for Charcot-Marie-Tooth disease.
HNF continues to place the highest priority on helping those living with CMT and other inherited neuropathies.
I am eternally grateful and appreciative for what HNF does for the CMT community. #GivingTuesday is a perfect time to give thanks and contribute to HNF on this special day."
By Estela
#GivingTuesday has become one of my favorite parts of the holiday season. The special day serves as a beautiful reminder of what this time of year is truly about. It's an opportunity to reflect on our own blessings, and extend a hand to those in need.
I have been humbled and inspired to learn about and support organizations such as the Hereditary Neuropathy Foundation. HNF's relentless team continues to take action each and everyday to create life-changing results for so many families. I can't think of any greater gift than that."
By Courtney
#GivingTuesday is a day I like to think of as 'paying it forward.' The hustle and bustle of the holidays come quickly. #GivingTuesday reminds me to take pause, reflect on my many blessings, and give to a worthy cause in need of monetary donations. I get a sense of comfort knowing on #GivingTuesday, I made a contribution to help others."
Why do you give?
We'd love to hear why you give and what #GivingTuesday means to you.
Come join us on December 1st and participate in this globally recognized movement of giving and philanthropy.
Share your stories with the hashtag #GivingTuesday on all your social media channels and help spread the message of sharing and caring this holiday season.