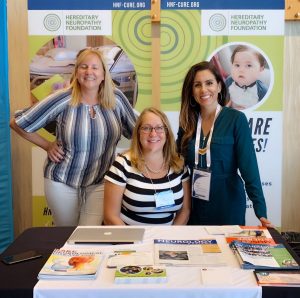 We hear time after time from frustrated CMT patients across the country, "My doctor doesn't know much about CMT. How do I know  I'm getting the best treatment?"
HNF understands the impact and scale of this challenge. It's what drives us to connect with neurologists, neuromuscular physicians, technologists and other professionals every chance we get. "There are hundreds of neuromuscular diseases out there affecting many people," said American Neuromuscular Foundation Director, Shelly Jones. "Supporters typically only hear about a few, like ALS or SMA. However this approach leaves those other diseases without exposure." 
CMT has been one of those unexposed diseases for many decades, but our mission is to change that. For over 9 years, HNF has been representing the CMT community by attending, showcasing and presenting posters, running workshops on Patient Reported Outcomes at the American Association of Neuromuscular and Electrodiagnostic Medicine (AANEM) Annual Meeting. We've also collaborated on executing two Continuing Education Courses through government and industry support. 
This year's meeting was held in Austin, TX. October 16-19 with more than a thousand attendees working in the fields of neuromuscular (NM), musculoskeletal (MSK), and electrodiagnostic (EDX) medicine. The focus this year was the present and future role of technology in treating patients with neuromuscular diseases, according to AANEM and ANF President Anthony Chiodo, MD. "Technological advances are rapidly occurring in the areas of robotics, computerization, mobility aids, and others," Dr. Chiodo said. "Each of our speakers will share how they believe technology will translate to improved patient care and the continued cultivation of future technological breakthroughs." 
Important data posters, captured from HNF's Global Registry for Inherited Neuropathy, GRIN were presented by HNF to better provide attendees with the CMT patient perspective and what matters most to them. 
Charcot-Marie- Tooth 1A and Impaired Patient Mobility: Expressions, Remedies and Impact on Quality of Life 
The Path To Diagnosing CharcotMarie-Tooth Disease: The Patient Experience 
Qualitative and Quantitative Voice Activation Technology captures Patient Reported Outcomes to inform the Food & Drug Administration on Charcot-Marie-Tooth Disease 
The HNF booth displayed the latest CMT materials and provided attendees with resources for their practices as well as their patients. Physicians were encouraged to take the free credited CMT Course (https://bit.ly/2EP1Yye) developed in 2010 and the Assessment Test (https://bit.ly/34QKN9Y), recently developed in 2018. 
"We want physicians to have as many tools in their pocket to better treat the CMT community. We want patients to leave their appointments feeling empowered by the work HNF does on their behalf and connected to a large network of meaningful resources." – Estela Lugo, Medical Outreach Manager.