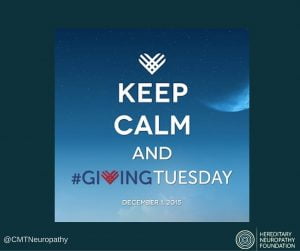 On Thanksgiving, we give thanks.
On Black Friday, we get deals.
On Cyber Monday, we get online.
And on #GivingTuesday, we give back.
Since its inaugural year in 2012, #GivingTuesday has become a movement about celebrating and supporting philanthropy during the holiday season. #GivingTuesday unites countries around the world by sharing our capacity to care for and empower one another.
#GivingTuesday harnesses the power of social media amplifying the small acts of kindness by organizations, families, and individuals.
The Hereditary Neuropathy Foundation is proud to continue our support of #GivingTuesday. Come join us on December 1st and participate in this globally recognized movement of giving and philanthropy.
You can help individuals living with CMT by donating to HNF's Therapeutic Research in Accelerated Discovery (TRIAD) program on our donation page HERE.
It doesn't matter how much you give, or what you give.
Only that you give.
Be sure to share the hashtag #GivingTuesday with your friends and families on all your social media channels and help spread the message of sharing and caring this holiday season!