HNF acknowledges that single-gene mitochondrial disorders are often go undiagnosed. Recognizing the symptoms, getting the diagnosis and early intervention is key to limit the progression of the disease.
It's important to document the impact of Mito on the quality of life in childhood. Learning about the symptoms and joining HNF's patient registry will help us prepare for pediatric clinical trials! 
Participate by confidentially sharing your child's health data. Join HNF's Global Registry for Inherited Neuropathies (GRIN) & complete the Natural History study, followed by the Pediatric Quality of Life survey.
Note: For your child to participate in this study, please complete the natural history study and health and development survey. Once those two studies are completed, you can bypass the other listed studies and select pCMT QoL.
CMT GRIN Stats
Did you Know?
Of CMT Patients Reported the Absence of Reflexes
(Photo: Lindsey Flynt, Mito mom and Dr. Battersby)
The Battersby Lab, located at the Institute of Biotechnology at the University of Helsinki, funding from HNF to support their research into mitochondrial diseases and MTRFR/C12orf65 deficiency, also known as CMT6 with Leigh Syndrome.
"This donation provides us with critical experimental resourcing to perform some challenging experiments this year, which we need to show to secure large-scale funding for the therapeutic approach that I am developing in collaboration with Prof Robert Burgess (Jackson Laboratory, Bar Harbor, ME, USA)."
– Dr. Brendan Battersby, PhD., University of Helsinki
HNF Mito Fight
HNF is focused on the certain mitochondrial diseases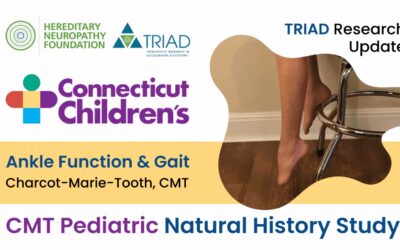 HNF TRIAD Academic Partner Connecticut Children's Publishes Results of CMT Pediatric Natural History Study to Better Understand Ankle Function and Gait  HNF-funded research sought to determine how age and CMT type affect ankle strength in children. A detailed...