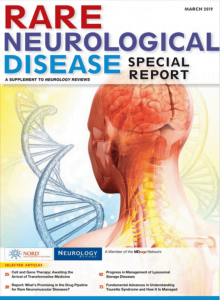 The Hereditary Neuropathy Foundation is proud to announce that for the fifth year in a row, we have been featured in the annual Rare Neurological Disease Special Report—a widely-read supplement included in the mailing of the March issues of Neurology Reviews. It is also distributed at all major neurology conferences throughout the year, including the 2019 MDA Clinical and Scientific Conference in Orlando, Florida April 13th-17th. If you attend come visit HNF at the Neurology Reviews booth.

We are diligently educating neurologists and Health Care Providers about CMT on your behalf.
Neurology Reviews is the first and original news source in neurology and has a history of providing independent, unbiased news to neurologists and clinicians interested in the neurosciences.
Here is what HNF featured in the March, 2019 edition: 
As with all of HNF's programs, we rely on donations and support from our industry sponsors, government grants and YOU! Please donate today to support our continued medical outreach initiatives.