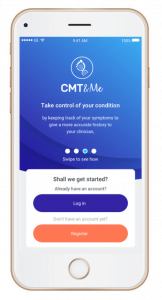 Did you know you can now store your CMT data at your fingertips? The CMT&ME app, developed by Vitaccess, has updated the app to include a brand new medical profile. To update the app, go to your app store and click update. 
In collaboration with our industry partners Pharnext and Vitaccess, we are thrilled to bring to you new features of the CMT&Me App. 
"This two-year study, which has been launched in 6 countries, was built for you and by you, the patients," says Dr. Youcef Boutalbi, Pharnext Medical Affairs Director at the groundbreaking HNF Movement is Medicine™ Summit Crowd-Design Workshop on November 8-9, 2019. 
Currently this is the only mobile App for patients to record details on their diagnosis, list current or prior medications or participation in clinical trials, and log in regularly to report on symptoms, such as pain, falls, sleep, and so much more. 
This vital partnership gives our members the opportunity for their voices to be heard! By sharing your daily or weekly experiences and challenges, you are participating in very important research that will help Pharnext and the entire CMT community accelerate therapies to address your unmet medical needs, expand the knowledge of what you, as patients, face. Most importantly, it will provide a portal to store your data to refer back to or even share with your doctors.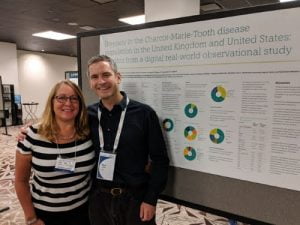 Allison Moore, Founder and CEO of HNF, has worked closely with Dr. Mark Larkin, Founder and CEO of Vitaccess, to disseminate CMT&Me research findings at global medical conferences to increase awareness of the CMT patient experience and advise regulators and payers (ie. insurance companies) on the impact CMT has on quality of life. The latest poster sessions Mark and Allison were highlighted at the AANEM annual conference in Austin, TX. 
Diversity in the Charcot-MarieTooth Disease Population in the United Kingdom and United States: Insights from a Digital Real-World Observational Study 

Treatment of Charcot-Marie-Tooth Disease in the United Kingdom and United States: Insights from a Digital Real-World Observational Study 
The CMT&Me App has shed additional insights into this grossly underserved community and the unmet need of medical care and treatments for our patient community. Pharnext, Vitaccess and HNF recognize the urgency of getting drugs approved and commercialized for CMT, so don't wait, join today! 
CLICK HERE FOR MORE INFORMATION: www.hnf-cure.org/living-with-cmt/cmtme-study 
DOWNLOAD THE CMT ME APP TODAY! www.hnf-cure.org/cmtme-study