HNF takes Action and Joins Genomics Revolution for CMT and Rare Forms of IN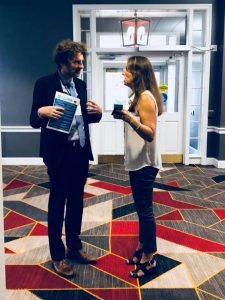 Stephan Züchner, Founder of The Genesis Project, a cloud-based database designed for storing and analyzing genomic data, joins HNF's TRIAD Gene Therapy Research Initiative. Also pictured Lori Sames.
"The partnership with HNF is a big step towards our mission of providing advanced genetics to even more CMT patients, ultimately guiding the way to new therapies." – Dr. Stephen Züchner, MD, PhD Professor for Human Genetics and Neurology Chair, Dr. John T. Macdonald Foundation Department of Human Genetics Co-Director, John P. Hussman Institute for Human Genomics University of Miami Miller School of Medicine and founder of The Genesis Project
"I love what I do and I'm eager to apply what I've learned to other debilitating forms of inherited neuropathies. The technologies exist to treat many of these horrific disorders, but what's absent is the attention and funding." – Lori Sames Co-Founder of Hannah's Hope Fund for Giant Axonal Neuropathy
"Fighter Mom" Lori Sames joins the Genesis Project, too! Lori from her kitchen table lead the development of the first-in-human gene therapy to the spinal cord, with Steven Gray, PhD UT Southwestern, as the principal investigator. Lori was able to translate to human trials in a fraction of time it typically takes industry.
A brighter future with more treatments and cures for all types of CMT.  
The Genesis Project collects, stores and analyzes patient registry, GRIN, CMT genomic data through their ongoing research study. This will empower GRIN to become the data hub of choice for clinical trials in CMT  

Support for patients that have not obtained a definitive diagnosis through genetic testing and for those interested in having personal Whole Genome Sequencing

Gain more insight into the genes and experience of different symptoms and onsets associated with genomics and functionality

Identify more secondary genes that may be CMT disease causing and modify the onset and severity of symptoms in families

GRIN data will be made available to CMT stakeholders

This is an opportunity for the best scientists globally to participate in solving the genetic diagnostic riddles of CMT and work towards therapies
Donate: http://weblink.donorperfect.com/GeneTherapy
GRIN connects with The Genesis Platform to accelerate a better understanding of patient's genomics to advance gene therapy research and for recruitment in clinical trials.