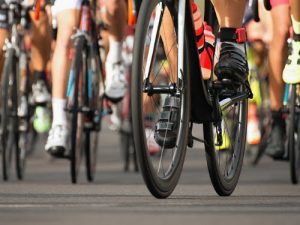 Last summer HNF teamed up with the Penn Medicine Orphan Disease Center (ODC) for the Million Dollar Bike Ride (MDBR) in Philadelphia. Our fundraising goal of over $30k was achieved and matched by the ODC, granting HNF over $60k to allocate to CMT research. Thanks to our generous sponsors and riders!
After evaluating many different potential avenues, HNF chose to direct the research funds to a very underserved, yet vital area — pediatric clinical trials. "We have very promising developments taking place in pharma and genetic therapy research right now, but without the collection of more pediatric data to measure outcomes and efficacy, these treatments will never make it to our community." 
"It is imperative to shed more light on pediatrics and the urgency of delivering treatments to these patients and families. There are a million moving parts to produce successful clinical trials. It takes lots of work behind the scenes that few people are aware of unless they are deep in the trenches. We're confident we'll be able to significantly alleviate future hurdles and add significant knowledge and resources. 
When it comes to CMT in children, it's even more important to get treatments out swiftly and halt/reverse progression early on" Allison Moore, HNF Founder and CEO.
HNF is pleased to provide funding to continue the promising research being conducted at the prestigious Connecticut Children's Gait Lab. The project will be overseen by Director of Research and Education, Sylvia Ounpuu, MSC, and Gyula Acsadi, MD, PhD, Division Head of Neurology. Both investigators are a part of the Inherited Neuropathy Consortium, as is HNF. 
The study will measure abnormalities in gait function using comprehensive gait analysis techniques and wearable activity monitoring and then compare them to CMTPedS scores. The research will also compare the changes in these parameters over time and study the relationship between the patients' measureable gait function and a promising biomarker, neurofilament light chain (NfL) level. The information gained from these investigations will support not only the understanding of the natural history of gait and community function, but also clinical trial readiness for new treatments. "To conduct a successful therapeutic trial for children and youth with CMT, a detailed understanding of the natural history of walking decline is needed, along with predictable benchmarks to support the development and translation of emerging disease-modifying therapies," Sylvia Ounpuu, MSc.