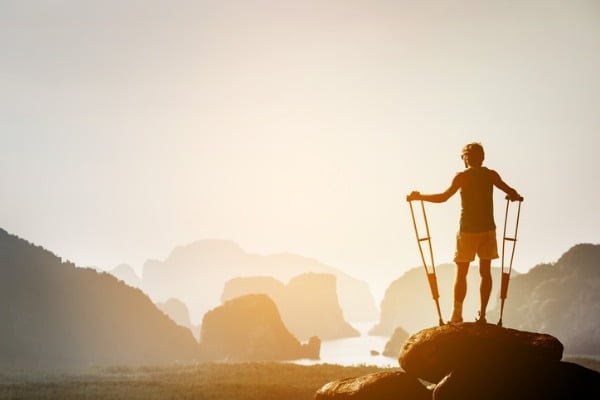 "If you don't use it, you'll lose it!" How many times have we heard that? Exercise and CMT can be a tricky combination. As we've seen, there are Team CMT members who regularly train and run marathons. For instance, Allison Moore, HNF's Founder/ CEO, accomplished a lifetime goal of completing the New York City Marathon last fall! But, there are also plenty of us who mourn the loss of that level of mobility as our CMT has progressed, and could never fathom signing up for a marathon, let alone completing one.
But, although it's challenging, numerous studies have shown that movement and exercise are essential for CMT patients to maintain muscle tone and function. So, with that in mind, the Hereditary Neuropathy Foundation is excited to announce its latest patient-focused summit, Movement is Medicine™, being held at Ability360 Sports & Fitness Center in Phoenix, AZ, on November 8-9. The fully adaptive fitness center provides a unique opportunity to try new activities in a judgement-free zone and learn tips and tricks from other people with CMT, as well as trainers who fully understand disability.
The groundbreaking Movement is Medicine™ Summit will be an interactive two-day event with inspirational speakers, awesome instructors and informational breakout sessions specifically curated for CMT patients. We plan to have a lot of fun, too!
At the Movement is Medicine™ Summit, you will receive interactive, hands-on instruction from leading fitness experts who will help jumpstart your ability to enjoy a more active lifestyle! You'll be able to join others with CMT in the warm therapy pool, via lift/elevator, if needed, for Ai Chi sessions that will focus on breathing, balance, flexibility, joint mobility and relaxation. If you're looking for something with a bit more intensity, you can try a Krankcycle® arm crank bike too! Learn how to adapt yoga around decreased balance or AFOs. Try rowing on a wheelchair-accessible rowing machine or climbing a rock wall. Learn how to feel more confident in the gym with Circuit Training and more.
Your two-day pass will include all sessions, breakouts and evaluations, as well as breakfast, lunch and dinner both days.
November 8-9th, 2019 Phoenix, AZ
Space is limited for this amazing event, so make sure to reserve your spot today!
You don't have to have CMT to participate, there will be something for all attendees.