My name is Ginnell McDonald. I live in Madison, Wisconsin where I grew up. I am a wife, mom, retired teacher and now an author/illustrator. In my spare time I love learning new things, traveling, drawing, going on picnics and eating cherry pie!
There are several reasons why I wanted to write Brace Yourself For Another Day. I read a quote that said, "Writing is painting with your voice." I thought I can do that! As an elementary school teacher I knew I could impact children in a positive way by writing a children's book. I wanted to give children with disabilities a voice. This book is written through the eyes of Peaches, a spunky little girl who wears leg braces. She gives you a glimpse of what her life is like with braces and eventually views her braces in a positive light. Through my writing I can plant seeds of compassion and encourage children to be the best they can be. Everyone has a story and if we share our stories my hope is that there will be a better understanding and acceptance of each other. It has been quite a journey that has allowed me to meet some amazing people and give back to the community by donating the proceeds of each book.
I have CMT1A and currently wear leg braces. I also have atrophy in my hands, which makes fine motor activities a challenge, and my balance has been affected. That said, I feel these physical limitations have made me a better person. They have taught me to embrace what you have, celebrate it and surround yourself with people that feel like sunshine!
The reaction from my readers has been overwhelming. The support and kind words have been very encouraging. Readers thought it was heartwarming and inspirational. Others highly recommended it and loved the positive message. Some comments include: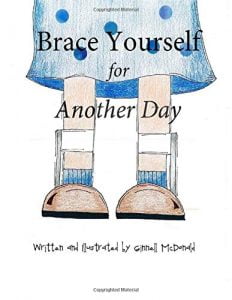 "This book will open minds and hearts. It conveys a message of positivity in overcoming obstacles"

"This book boosts confidence, increases self esteem and encourages kids to be who they are"

"As a former special education teacher, this is the type of book that would be helpful in every elementary classroom."

"Loved it so much I bought extra copies to donate to a few local schools."
I decided to accept my braces when I knew they would make it possible for me to continue to do things I wanted to do. I love staying active and want to experience everything that life has to offer.
There are many things I hope my readers take away. I hope it will bring awareness, understanding, acceptance and compassion for those who may live with any kind of visible or invisible disability. My wish is that this book will initiate conversations about dealing and overcoming challenges in our lives. I want everyone to realize that everyday you have the opportunity to be the best version of yourself and to take time to be grateful and joyful for those things that you can do. Everyone has a gift to give to the world, what is yours?
I have been thinking about future books with Peaches. There is nothing started yet, but my pen and paper are ready to go!
To purchase a copy of "Brace Yourself for Another Day" click here!

Join our LIVE Reading with Ginnell on 2/11 @7pm click here!