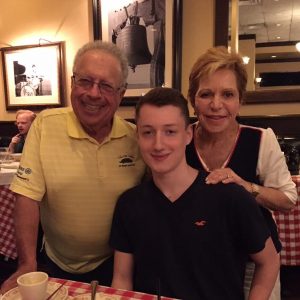 IRIS ADLER, GRANDPARENT OF A CMT2A PATIENT 
It's hard to believe that 11 years ago my grandson, Elliot, was diagnosed with Charcot-Marie-Tooth (CMT) disease. After the age of seven, Elliot could not play soccer, ride his bike, or hike in the woods. Instead, he's endured several surgeries and is struggling today to cope with his deteriorating condition. Elliot wears braces that extend to his knees, and the loss of agility makes it nearly impossible for him to enjoy activities that most young boys and men take for granted.
After meeting Allison Moore, HNF's CEO/ Founder, I partnered with the Hereditary Neuropathy Foundation and created a fund called H.E.L.P (Help Elliot Live Proud) specifically for research of Charcot-Marie-Tooth Type 2A. Since then, I've worked hard to raise money to cure and treat this little known disease. It has been a successful endeavor, but we still need to do more for research and to bring drugs to market! 
Allison has devoted her life to our little-known disease, which causes such distress. She has done an amazing job with new discoveries, information and making the world more aware of CMT. We are so close, really close, to eliminating and perhaps reversing the effects of Elliot's CMT2A. What we discover for Elliot's type will benefit all the variants of CMT. So if everyone donates (even a small amount), we will be on the road to raising enough to make this a reality. You may choose to give for research specifically for CMT2A to the H.E.L.P. Fund. 
CLICK HERE: www.hnf-cure.org/h-e-l-p-for-cmt 
TO DONATE FOR THE CMT TYPE THAT AFFECTS YOUR FAMILY, CLICK HERE: www.hnf-cure.org/donate-hnf 
Whatever you decide, please GIVE! With gratitude, Iris Adler
JOIN US for the 11th annual Charity Card Party on February 7, 2020 at Boca West Country Club.
CLICK HERE: weblink.donorperfect.com/CardPartyHELP