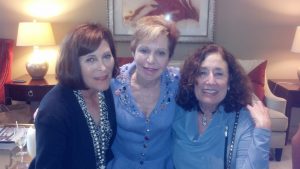 On Friday January 29, 2016 H.E.L.P. Fund supporters came together for the 7th annual H.E.L.P. Card Party at Broken Sound Country Club, Boca Raton.
Event hosts Iris and Nat Adler started the H.E.L.P. Fund (Help Elliot Live Proud) back in 2007 to benefit CMT2A, in honor of their grandson Elliot who lives with CMT2A.
The event kicked off with a scrumptious buffet brunch, followed by an upscale boutique where guests could shop for upscale and trendy jewelry, designer bags and clothing, fair-traded jewelry, and other unique items.
Guests were also able to participate in numerous raffles, and bids were placed on over 50 silent auction items.
HNF is proud to report that over $36,000 was raised for research for CMT2A at this annual event! Thank you to all the guests who attended, donations from friends that were unable to come, and the businesses that so generously donated.