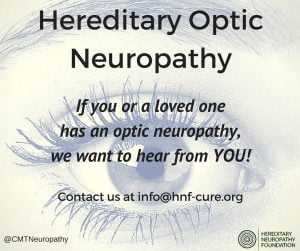 Hereditary optic neuropathies are genetic disorders that cause vision loss. Those affected may also experience cardiac or neurological abnormalities. Currently, there are no effective treatments or cures for these inherited diseases.  
Optic neuropathy is one of the symptoms of a less common form of Charcot-Marie-Tooth disease known as CMT6. Symptoms of vision abnormalities can start in early childhood, teenage years, or adulthood. Those with CMT6 develop optic atrophy, resulting in a loss of vision or blindness.
Giant Axonal Neuropathy (GAN) is another rare genetic disorder with an optic component to the disease process. Patients with GAN typically develop visual problems, such as nystagmus: a rapid back and forth movement of the eyes. GAN symptoms generally appear in early childhood, slowly progressing as neuronal injury worsens.
Optic Atrophy/Optic Neuropathy, also known as autosomal dominant optic atrophy (ADOA)-plus syndrome, is considered to be the most common hereditary optic neuropathy. In ADOA, the optic nerve begins to degenerate, leading to progressive vision loss. Weakness in the muscles that control eye movement also contribute to visual deficits.
The Hereditary Neuropathy Foundation is committed to finding cures for these diseases.
But we can't do it alone.
Here are a few ways you can help:
Jillian's Cure : Carolyn Nava founded Jillian's Cure after her daughter Jillian was diagnosed with ADOA. Jillian, known to many as "JuJu", is losing her vision due to this rare, inherited neuropathy. HNF supports Jillian's Cure to help raise research dollars to find a cure for ADOA. You can show your support by joining Jillian's Team HERE.
Hannah's Hope Fund: HHF's mission is to raise funds to support the development of a treatment and cure for GAN, and to be the resource for doctors, scientists, and families worldwide. Learn more about HHF and their mission HERE.
Global Registry for Inherited Neuropathies (GRIN): HNF and HHF have partnered together to create GRIN. This registry collects the clinical and genetic information on patients diagnosed with the various forms of inherited neuropathies to help advance therapy development for these debilitating disorders.
Please consider joining the registry HERE and help us promote hereditary neuropathy awareness, advocacy, and research. Your patient information will be utilized to accelerate the research and clinical trials that could lead to future treatments and cures for various forms of CMT, GAN, and other inherited neuropathies.
We care about all inherited neuropathies, no matter how rare.
If you or a loved one has an optic neuropathy, we want to hear from YOU!
Contact us at info@hnf-cure.org
Together we can cure these diseases!