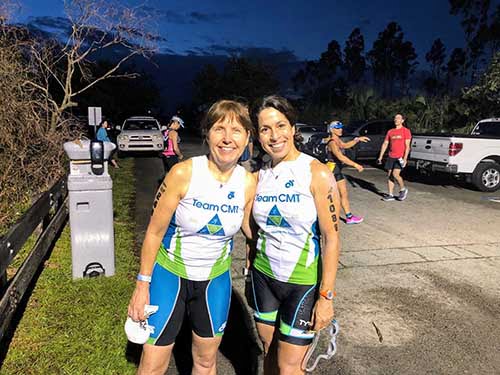 On November 12, Team CMT members Joy DeCaro Perry and Chris Wodke competed in the Miami Man Triathlon in Miami, Florida. The race was a National Championship for Aqua Bike and Long Course Triathlon. Joy competed in the Aqua Bike race, which was a 1.2 mile swim and a 56 mile bike ride. Chris competed in the Long Course Triathlon, which added a 13.1 mile run to the Aqua Bike swim and ride.
It was a challenging day, with 20 mph winds and 88 degree heat. These types of conditions are tough enough for any athlete, much less one with the challenges of CMT. Just finishing a race with such conditions is a victory. Both athletes raced in the Physically Challenged division, each taking first place.
"We were both proud to be racing in Miami and raising awareness of CMT. I am also so proud of Joy. She beat a tandem team, which is really hard to do. I took 1st place in my triathlon, but there were only two of us." – Chris Wodke
Team CMT now has two National Champions! The race is also a qualifier for the World Championship to be held next July 2018 in Denmark. Chris has already qualified for the World Championship in Denmark in Aquathlon—Aquathlon consists of a swim and run. The race was also a fundraiser for CMT programs and research.
YOU CAN STILL MAKE A CONTRIBUTION IN HONOR OF THESE CHAMPIONS TODAY!