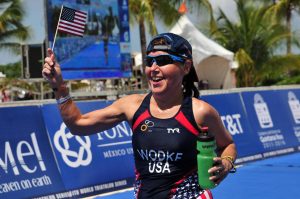 "We succeed in enterprises which demand the positive qualities we possess, but excel in those which also make use of our defects." – Alexis de Tocqueville
Team CMT was formed in 2010 and we ran our first race in Brown Deer, Wisconsin, at the end of April, 2010.  We had three members:Chris Wodke, Founder Team CMT, and her friends, Cheryl and Robert Kearney.  The team has grown quite a bit since then.  
Team CMT in 2020
Members: 233 in 41 states
Countries: 16 – USA, Australia, Canada, England, Finland, Vietnam, Iran, Scotland, France, Turkey, Poland, Norway, Mexico, Wales, Ireland, Sweden
Sports represented: Running, walking, martial arts, cycling, swimming, kayaking, weight lifting,  Nordic skiing, biathlon, alpine skiing, track, and triathlon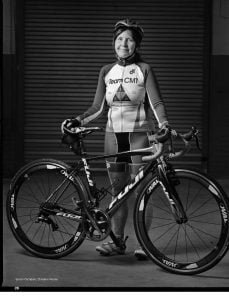 Team Member Accomplishments include:
Half and full marathon finishes around the US and in member countries, including the Boston Marathon and TCS New York Marathon

Circumnavigating Big Island of Hawaii by kayak

Multiple Ironman Triathlons

Team USA members including appearance at World Championships

Multiple team members appearing at Para-triathlon National Championships

Gran Frodo finishers

Leadville 100 mile bike race

Multiple year appearance at the TD Bank Five Boro Bike Ride in New York

UPenn Orphan Disease Center Million Dollar Bike Ride
Founding Story
Chris Wodke founded the group because when she was diagnosed she could not believe she had never heard of CMT with it being the most common genetic neuromuscular condition. 
"It did not seem right to me that most people had no idea what it was".
Chris was determined to change that. She knew there would be no cure without wider recognition of CMT.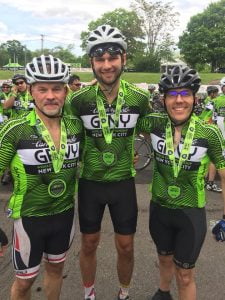 Chris also witnessed that many in the community lived without hope.  Most of them had been told not to exercise when they were diagnosed.  At one time the thinking was that exercise would accelerate the disease.  That has been found not to be true, but the belief was still common in the community.
It was a common belief by many even in the medical community, that someone with CMT could not run. That is true even for many of our Team CMT athletes who proudly wear their Team CMT uniforms while participating in sports or workouts their bodies allow.
Those of us that can still run have done runs, and multisport events in the U.S and in many parts of the world. Team members have put names and faces to this disease at a time when having CMT still carries a stigma. Many family members, including some my own, refuse to discuss CMT.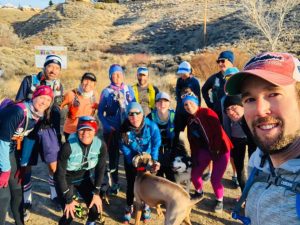 I am so proud of the work our members have done to change perceptions about CMT. Now I see discussions in the community about the type of exercise that can be done.  Our partner, the Hereditary Neuropathy Foundation, has been a leader in promoting exercise for those with CMT. They have hosted multiple "Movement is Medicine™" seminars, which is why we chose to partner with them shortly after the team was formed.
I am so grateful for the work our team members continue to put in. I know the challenges CMT imposes on us to stay active. By being active we prove many in the medical community wrong and inspire our CMT community as positive role models.
Many of our family members have joined in support of an afflicted friend or family member. We are so grateful for their  support -it means more than I can possibly express.
These 10 years have gone by quickly. When we started with three members, I never dreamed we would grow this large. I never imagined all the team members I'd meet from around the country who have humbled and inspired me.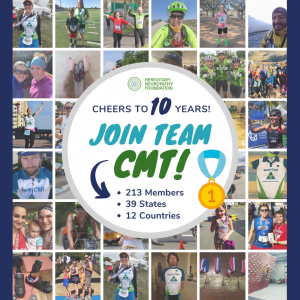 Often when I race, I am approached by someone with a family member with CMT.  It is not unusual for someone with CMT to have never met a fellow individual with CMT outside of their family. I am always happy to welcome them into our growing community.
Although we are currently challenged by the virus concerns, someday soon we will be back to our mission.  A few cancelled races is nothing compared to training and racing with CMT.  WE'VE GOT THIS.
Cheers to many more wonderful years and members for our TEAM CMT!
Join Team CMT https://www.hnf-cure.org/team-cmt/