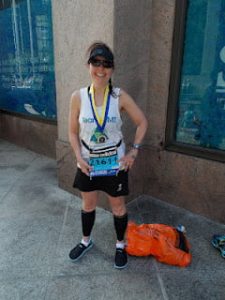 Congratulations to Chris Wodke, manager of Team CMT, who placed second in the Mobility Impaired Division of the 2012 Boston Marathon on April 16! An accomplished athlete who has participated in triathlons, Chris never thought she would be able to run Boston. The oldest annual marathon, Boston ranks as one of the world's most prestigious events. When Chris received her acceptance letter she told us "it is an honor and I am humbled. This is the achievement of a dream that seemed out of reach."
With temperatures on race day beginning at 79 degrees and climbing well into the high 80's, it took all of Chris' training to get her through. Excitement the morning of the race was high and Chris declined the deferment she was offered due to the extreme temperatures. "I felt like I'd been training for this race my whole life. I was ready to go. I was injury free and ready to do my third marathon in a year. As the signs say in every town: Team CMT was all in."
At 7:00 am, with only four and a half hours sleep, Chris boarded the bus that would carry runners to the athletes' village arriving two and a half hours before her start time. She spent that time listening to music and thinking about the race. Initially Chris hoped to "not just run but run well, finishing in four hours and forty-one minutes." The increasing temperatures forced her to reconsider and Chris changed her goal to "surviving the heat and finishing." Hydration became the most important word of the day. Marathon officials planned three cups of water at every stop for each runner. Chris used all three, "I poured two on me and one in me," she reported. "Running on blacktop without shade with temperatures in the upper 80's for 26.2 miles is a challenge." The fire department opened hydrants and spectators used garden hoses to spray down the runners.
Chris gives a lot of credit to the spectators for helping her along. Patriot's day in Boston is a state holiday and entire families lined the route, cheering the runners along, offering water and oranges and of course, rounds of encouraging high-fives. At the always tough halfway point, the women of Wellesley College, known to be the most enthusiastic fans on the course, cheered Chris on.
At Mile 17, Chris was met by friend and Team CMT member Cheryl Monnat, who provided dry shoes and socks. HNF President Allison Moore was at Mile 21 for pictures and a surge of support. By then, Chris was alternating walking and running. In spite of the time goal she set for herself, Chris wisely chose to listen to her body. By the end of the marathon, 252 runners were taken to the hospital and 2000 were treated on the course. Friend Cheryl reappeared at Mile 25 to cheer her on. Chris then experienced the thrill of running through a tunnel of fans toward the finish line. Crossing five hours, 27 minutes and 39 seconds after she started, Chris placed an amazing second in her division. We are all very proud of her!
Chris says she would have liked to have finished faster but acknowledges that competing in a marathon is more than running 26.2 miles. "It's also," she says, "about mastering your mind to let your body do the things it is meant to do." Chris has set an incredible example of what can be accomplished through hard work and dedication. Way to go Chris!