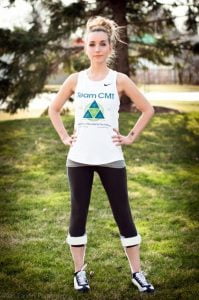 "The 10K was insane," recalls Di Billick of her participation on April 7, 2012 in the Ringing in Spring 10K Run in Valparaiso, IN. Di, a model and actress, was away on an unexpectedly extended film shoot. She returned home the day before the race without time to unpack and just enough to get a night's sleep in before the race. As if being overtired and racing with CMT weren't enough, Di was fighting a bad cold and had pulled her left hamstring the day before.
"Yeah, this really happened. I can't make this stuff up," she laughs. In spite of feeling a bit woozy and with a few stops to blow her nose, Di finished the 10K in one hour and 45 minutes! WOW! She credits having "trained like a champ" for getting her through it.
Di is also proud to report "it only took me three days to recover." That is incredible progress considering that just two years ago a one mile walk would have forced her to bed for days.
Di also did something special for Team CMT. "I took my body to the absolute limit yesterday, Sunday, April 15th, in honor of Chris Wodke's Boston Marathon run which took place the next day. I walked (no jogging or running) in one direction and had my husband pick me up when I couldn't go any further."
The result: 11.4 miles! Outrageous! Further proof that good training works! Now that she is walking again, Di doesn't intend to slow down anytime soon. She's already planning for the future, "I may just do a half-marathon walk next year…"