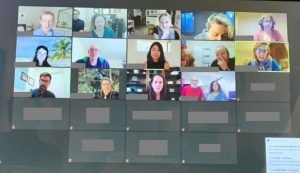 BY STEPHANIE CARMODY, TRPV4 RELATED HEREDITARY NEUROPATHY (CHARCOT MARIE TOOTH TYPE 2C) PATIENT
TRPV4 Hereditary Neuropathy Patients Connect with Johns Hopkins Experts to Push Research Efforts Forward
When you are diagnosed with an ultrarare type of hereditary neuropathy, it is invaluable to be able to connect with others who share your diagnosis and join together to raise awareness and advocate for research into treatments and standard of care guidelines to optimize health. When I finally received my true diagnosis of CMT2C (one of the TRPV4 related hereditary neuropathies) six years ago after searching my entire life, I was thrilled to be able to come together with others who share my diagnosis through a Facebook group I developed that has turned into an amazing community of individuals affected by TRPV4 HN from around the world. The group has grown greatly over the past five years, and has become a wonderfully supportive and active community dedicated to sharing experiences and helping each other navigate our challenging disorder. Several of us were even able to meet in person in 2018 and testify about the burden of this disease at the HNF-hosted Externally-led Patient Focused Drug Development meeting for the FDA in Silver Springs, MD.
I soon realized that we represented a powerful advocacy force, and started to explore ways to connect with leading research experts looking to understand our disorder and find treatments. I was fortunate to be able to connect with the TRPV4 HN team at Johns Hopkins which led to the incredible opportunity to host a virtual meeting between our Facebook group members and leading experts Dr. Brett McCray and Dr. Charlotte Sumner on December 4th, 2020. The purpose of this meeting was for both parties to learn from each other; the meeting included a research update and detailed Q&A session.
The importance of patient advocacy and involvement in the research process cannot be overstated. Patients play a critical role with researchers to advance understanding of hereditary neuropathies and bring about human trials. The team at Johns Hopkins has made incredible research advancements and is now launching a TRPV4 Hereditary Neuropathy registry that will serve as a natural history study in preparation for future clinical trials. In their breakthrough study published in May 2020, the Johns Hopkins team further identified the underlying mechanisms of our disorder and tested a potential TRPV4 antagonist in fruit flies and cultured primary mouse neurons. The ultimate goal is to investigate whether a TRPV4 antagonist may be a viable treatment option for TRPV4 HN patients, which will require engagement, participation, and advocacy within the TRPV4 HN patient community.
If you have been diagnosed with TRPV4 related hereditary neuropathy (Charcot Marie Tooth type 2C, Scapuloperoneal Spinal Muscular Atrophy, or Congenital Distal Spinal Muscular Atrophy), please email Dr. Brett McCray at [email protected] to participate in the Johns Hopkins TRPV4 Hereditary Neuropathy Registry. If you would like to join the TRPV4 HN community on Facebook, please search for TRPV4 Related Hereditary Neuropathies (CMT2C, SPSMA & CDSMA) and request to join, or email Stephanie at [email protected]. You can read Dr. McCray and Dr. Sumner's May 2020 research publication at https://bit.ly/3tUr0nW.
Thank you Stephanie for your dedication to the CMT community. Your representation at HNF's Externally-led Patient Focused Drug Development Meeting on September 28, 2018 was amazing!
CLICK HERE to watch Stephanie's testimony to the FDA. If you haven't already created a profile and completed the natural history study in HNF's patient registry, GRIN, please do so TODAY! www.neuropathyreg.org