About CMT4A / GDAP1
CMT4 is a rare subtype of CMT, a genetic, neurological disorder that causes damage to the peripheral nerves — tracts of nerve cell fibers that connect the brain and spinal cord to muscles and sensory organs.
CMT4 is a subtype of CMT that is inherited in an autosomal recessive pattern.
"As genetic therapies quickly become a real option for CMT patients, this new HNF project is very exciting for patients, physicians, and researchers alike"
– Dr. Stephen Züchner, MD, PhD Professor for Human Genetics and Neurology Chair, Dr. John T. Macdonald Foundation Department of Human Genetics Co-Director, John P. Hussman Institute for Human Genomics University of Miami Miller School of Medicine and founder of The Genesis Project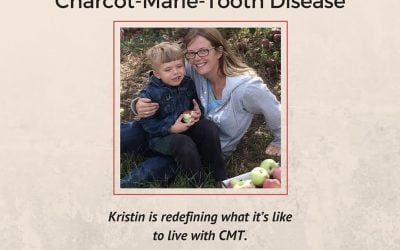 Kristin is redefining what it's like to live with Charcot-Marie-Tooth disease. Determined to be seen for who she is, rather than her disability, Kristin faces the daily challenges of CMT head on with grace, dignity, and perseverance.
Kristin's story not only shows us how she is redefining herself, but how she is giving others living with CMT the courage to do the same. Let's learn more about Kristin and how she's breaking down the barriers of CMT.