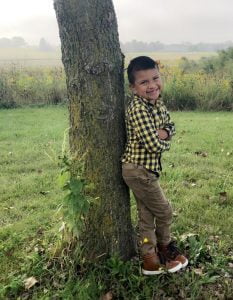 HOPE LOPEZ IS A SINGLE MOTHER OF 2 WHOSE SON OWEN HAS CMT4 GDAP1
Q. CAN YOU TELL US A LITTLE ABOUT YOURSELF? 
A. My name is Hope Lopez. I'm 28 years old and a single mother of three amazing boys, Owen (6), Oliver (21mo.), and Remington (2mo). I have moved around quite a bit to be where I have the most support for my kids. Currently, that has brought me to the small town of Burlington, IL. I live with my father, Raul, and my children. My father has always been my biggest support system, and within the last year and a half, I was blessed with meeting Marty and Jose. They are a gay couple who have become a tremendous help and support for me and my kids— caring for them while I work, coming along to doctors' appointments, and helping with Owen's school. They have become a part of my family. I work as an EMT Basic and have been employed at AMT for four years. My medical background has been a big help in understanding and dealing with hospitals, nurses, medical procedures, etc. 
Q. WHO IN YOUR FAMILY HAS CMT4 GDAP1? WHEN WERE THEY FIRST DIAGNOSED? WHAT TYPE OF SYMPTOMS DID YOU FIRST NOTICE? 
A. There is no history of CMT4 GDAP1 in my family history. My son Owen is the first to be diagnosed after foregoing years of tests and seeing different doctors, many of which began treating his symptoms before knowing the cause. Owen was born with a congenital heart defect, HLHS, so he had been receiving speech, developmental, and physical therapies since he was six months old. His larger milestones were the easiest to notice first as he was delayed in reaching them. Around 15 months, we noticed that he wasn't walking and the physical therapist noticed that he had low muscle tone in his lower legs and drop foot. She had suggested AFOs, a vest to support his torso and theratog shorts. As time went on, we began to notice other things such as his toes curling over, sensitivities to different textures and temperatures, and then, later, his hands began to contract. He was finally diagnosed on October 7th of 2019 after two different types of genetic testing. 
Q. HOW LONG DID IT TAKE TO BE DIAGNOSED? 
A. Because Owen was born with a congenital heart defect, most of his delays were thought to be heart-related at first. We had been referred to a neurologist when Owen was about three years old. He had many tests that were all coming back normal. After his third surgery, we noticed weakness in his hands, and were then referred to a surgical neurologist who diagnosed Owen with neuropathy and suggested that he get genetic testing to see what kind of neuropathy he had. It took two rounds of genetic testing and more than 18 months to get the diagnosis. 
Q. WHO DIAGNOSED HIM?
A. Dr Rao, Surgical Neurologist at Lurie Children's Hospital in Chicago, diagnosed Owen with GDAP1 after genetic testing. 
Q. HAD YOU EVER HEARD OF CMT BEFORE THIS? 
A. I had never heard of CMT before this. 
Q. WHAT DID YOUR DR. TELL YOU TO EXPECT? WHAT ADVICE/RESOURCES DID THEY PROVIDE? 
A. Dr. Rao informed me that Owen had a type of neuropathy that was very aggressive and was progressing extremely rapidly. This was prior to the genetic testing. He said to expect it to get worse and that there would be no cure. He did not give us any resources. He only had us continue physical therapy which Owen was already doing. After he was diagnosed with GDAP1, Dr. Rao suggested Owen be included in clinical trials for GDAP1. He also said to register Owen in his neuropathy clinic starting in January 2020. 
Q. HOW DID YOU FIRST LEARN OF HNF? 
A. After finding out about Owen's diagnosis and not receiving much information on it, I started doing my own research online. I had found that GDAP1 was linked to CMT and started doing more research on CMT, as there is not much information to go by on just GDAP1 alone. Once I started the research on CMT, I began looking for support and informational groups on Facebook. I had shared my concerns about Owen's new diagnosis on one of the CMT pages and asked if anyone had the same form of CMT and, if so, would anyone be able to share information with me. From there, someone tagged Estela Lugo in the comments. I reached out to Estela and saw that she was involved with HNF and started looking into it. 
Q. WHAT ARE SOME OF THE BIGGEST STRUGGLES FOR YOUR SON? 
A. Owen has very little muscle tone below his knee in both legs and the same in his hands and wrists. He requires support in walking and wears AFOs. In addition, his heart condition affects his stamina and stairs are particularly hard for him. He is not able to open his hands all the way. They are always in a semi-clenched position, therefore making it difficult for him to write, feed and dress himself, among other issues. He also has sensory issues, which vary day to day. Although Owen wants to be independent, he is still very dependent, and finds himself aggravated and frustrated when there are things he wants to be able to do but just can't. 
Q. HOW DOES CMT AFFECT YOUR FAMILY? 
A. Owen has therapy in school and two/ three times a week at a Lurie Children's clinic, which is more than an hour away. This is a big time constraint. Owen has to miss school frequently, and we often have to rearrange our work schedules to accommodate this crucial therapy. Owen can't keep up with his peers on a physical level at school and has difficulty going up the stairs at home and getting on and off his school bus. Almost everything takes a bit longer for Owen. The additional time and attention Owen requires does put a financial burden on the family but, with God's help and those who love and support us, we always get by. We love Owen immensely and gladly give him all we can to help him to thrive! 
Q. WHAT ARE YOUR HOPES FOR THE FUTURE?
A. Our hopes for the future are that a cure is found and that Owen can lead a "normal" life. Owen Lopez
Therapeutic Research In Accelerated Discovery (TRIAD): A gene therapy is within our reach. GDAP1 (CMT4A) is an autosomal recessive loss of function disorder which our scientific advisory board and CMT research collaborators have identified as a type of CMT that has the potential to be cured with gene therapy. HNF is committed and needs your help! Calling all GDAP1 patients to support our gene therapy program. HNF is developing laboratory GDAP1 animals and Induced Pluripotent Stem Cells (IPSc) human cell models. This first phase of the project will take approximately 6 months to complete. 
TO SUPPORT, PLEASE DONATE
TO PARTICIPATE IN THE RESEARCH, CONTACT ALLISON MOORE: [email protected]