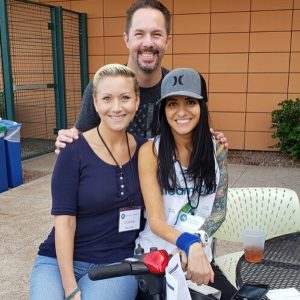 The Hereditary Neuropathy Foundation would like to thank all the sponsors who made the Movement is Medicine Summit possible. Pharnext, Acceleron Pharma, Vector Sports by Kayezen, Athena Diagnostics, BioTek reMEDys, ProtoKinetics, Vantage Mobility International (VMI),  Lacuna Botanicals, Ortho Rehab Designs: Helios Bracing, Fior & Gentz, Active Hands, Ottobock, Champlain Valley Dispensary, and Bombas all graciously provided financial support and products for the Movement is Medicine™ Summit.
We are grateful to all the patients who participated in this groundbreaking event! The wonderful feedback we have received makes all of the hard work and planning, well worth it. Here is what some of our attendees had to say:
"Watching my wife get involved with activities, seeing her spirit open up by just being around others with her disability made this event our best of the year! And, we got to meet our CMT heroes!!!" – Kenneth
"It was such an incredible weekend attending the Movement is Medicine Summit. I feel more alive and inspired. I loved being with other people who have CMT and are working on their health and well being. It was such a positive, fun, and safe space. I loved the Ability 360 location, learning about different exercises I haven't done before, and meeting wonderful people. I fell in love with the HNF organization. I finally feel like I have found my tribe." – Cheryl
"Empowering, Life-Changing, Life-Saving and Good for the Soul!" – Jennifer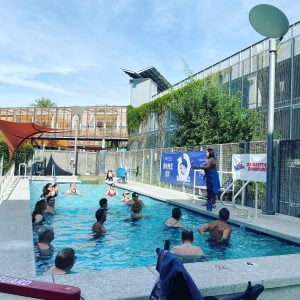 "This summit gave my daughter and me such inspiration and hope. We learned much more about CMT and how to combat its progression. We have put everything we learned into action in our everyday lives now. Thank you." – Terry
"The Summit was a valuable experience just by bringing together a wide array of individuals with a shared lifestyle based on our disease. The workshops taught exercises that I can do on my own to help me stay mobile." – Janet
"Patients with CMT need information, and there are not enough physicians who understand the disease. The Movement Is Medicine was a tremendous resource." – Bill
"I really felt comfortable in my body being around people with similar struggles (balance, gait, strength and other ailments caused by my disease). The fitness instructors were sympathetic to my limitations, which I really appreciated." – Laurie
"I feel less lonely. I feel braver and more accepting of myself. I saw and met people with some of my visible issues and have more perspective about how other people react to me. I feel less self-conscious about returning to my own life." – Rojean
"I learned that I can exercise in many different ways without over-exerting myself and causing pain. I was able to feel like myself and didn't feel like I had to act." – Taylor
"The Summit exceeded my expectations—from meeting and learning about other CMT warriors who were willing to share their experience, to attending all the educational sessions, which provided such valuable information—I am going home with new friends and hope to continue my CMT journey." – Amanda
"Like meeting family you never knew you had, but always wanted." – Jeff
HNF is grateful for all the individuals who helped to make this incredible Summit possible and who are making a difference in the lives of our courageous attendees.
The HNF team is already planning next year's Movement is Medicine™ Summit for November 2020.