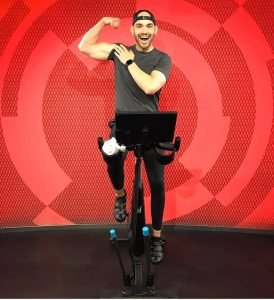 MARC DAIGLE, 34 YEARS-OLD
HOMETOWN: ST. CHARLES, MO
CURRENTLY: NEW YORK CITY
My CMT Story I have been an active person my entire life. I've completed 6 marathons, 2 Ironmans, 2 half Ironmans and multiple other races. 
In 2016 while I was training for the NYC half marathon, I rolled my ankle badly and took a hard fall. Ever since that training day, I haven't been able to run the same. It wasn't until 2017 that doctors told me I had CMT. We are still trying to figure out the type, which is extremely frustrating. Looking back, I've always shown signs of CMT. I frequently sprained my ankles, tripped over things and my hips gave out quickly while running races. Fast twitch movements affect me the most or prolonged periods of activity. Running, walking, and jumping are the hardest. After my fall in 2017, I stopped competing in races because I didn't think I should; I couldn't run fast anymore and I didn't know how pushing through in the run would affect my body, currently or long term. After several years, I was determined to race again. I modified my training and my running gait to help me complete the NYC Triathlon in 2018. In 2019, I completed Ironman Lake Placid, which is a 2.4 mile swim, 112 mile bike and 26.2 mile run.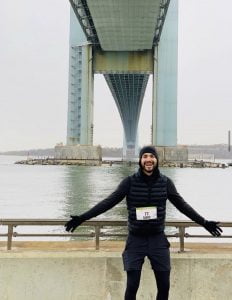 My symptoms now include nerve pain, nerve/muscle "popping" and twitching, and constant fatigue/discomfort. I have been an indoor cycling instructor at Flywheel Sports since March 2016. My CMT ramped up during training. Spinning helps my CMT by allowing me to continue to move my body and muscles with low impact. Biking and swimming make me feel strong and confident. The biggest adaptation is listening to my body. Learning what activities are hard and which ones are more doable. I'm also constantly learning and relearning what my body is capable of doing. I'm able to know the intensity of exercises and when my CMT will pass the point of no return in regards to leg and hip muscle movement. Examples include: altering my gait while running, knowing how much resistance and speed I can do safely on the bike, and completely eliminating certain exercises. 
Overcoming insecurity is a constant battle and something I still work with. In the fitness industry, I was trying constantly to keep up with my peers, but this was not possible…in terms of competing. But the more I showed up and just participated, the more confident I became. That's why finishing those races was so important to me. Opening up to friends, family, and clients also helped me a TON. It made me feel seen and I learned how inspiring I can be.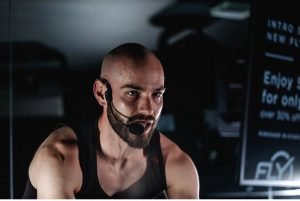 Movement is MedicineTM is EVERYTHING to me. We literally must use our bodies and move to stay healthy and strong. If not, we will all fall to additional atrophy and we can't let that happen. Movement makes me smile. Movement makes me laugh. Movement gives me confidence. Movement makes me LIVE! 
Cheers to moving our bodies. –Marc