We love coming across empowering products with inspiring people behind them. When we learned of Rob Smith's story, and how his line of gripping aids came to be, we knew it was one worth sharing. Often, our bodies are set to push further but hand atrophy stops us in our tracks. Whether it's in the gym, kitchen, office or outdoors, it's vital to keep the sense of independence and well-being that these activities provide. Thankfully, there are forward-thinkers like Rob who pave the way for others to pursue their best selves. (Make sure to check out Rob's impressive video tutorials on the Active Hands website and enjoy an exclusive HNF discount below!)
Q: What is Active Hands and who is it for?
A: Active Hands is a company that manufactures and sells a range of gripping aids for those with reduced hand function from a number of congenital and acquired disabilities and conditions. This includes those with spinal cord injuries, MS, CP, Stroke, limb difference, and many other lesser-known conditions affecting hand function.
Q: How were you inspired to create the company and product line?
A: I have a mechanical engineering degree. I had a cliff fall accident between my second and third year at university resulting in a C5/6 spinal cord injury and both hands being severely affected. I designed the products to help me get back into the gym, and others saw them and wanted some for themselves. The company developed from there.
Q: Are all of the products on your site designed by you?
A: Active Hands has an ever-expanding range of products we manufacture ourselves in the UK. We also now sell some other products made by others that are designed to work really well for those with reduced hand function.
Q: How can/do your products improve quality of life for people with disabilities?
A: At Active Hands, we are passionate about helping people move forward with life in whatever way that's important to them. The mental, physical and social benefits of being able to achieve goals, partake in activities and be included rather than excluded in life cannot be underestimated. We understand that sometimes the smallest catalyst of being able to hold a dumbbell, kayak paddle, kitchen knife, gardening trowel, or pull up your own socks, fasten shoelaces, carry a cup of tea, etc., can be the start to someone pushing their own boundaries, becoming more independent or just changing their attitude to life. At Active Hands, we want to be that catalyst.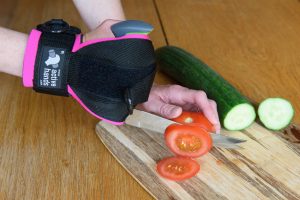 Q: What/who inspires you to design? Mentors, role models?
A: I think our own customers inspire us to design. The more we grow as a company, the more customers we come into contact with, and the more varied the conditions and disabilities we experience. If we can continue to learn about these new conditions and in some way assist our customers to make the small changes in life that make things a bit better, that inspires us to keep going.
10% discount code of "HNF10"
Valid June 1 – July 31st
FACEBOOK: ACTIVEHANDSCO TWITTER: @ACTIVEHANDSCO