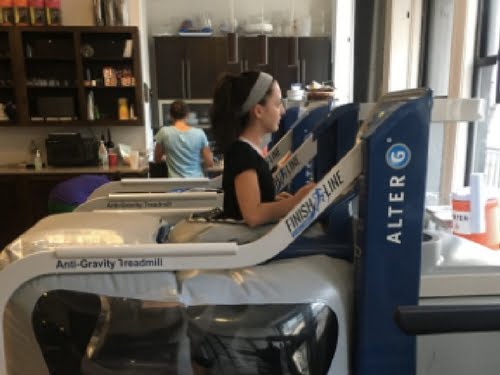 Please introduce yourself to the CMT community:
My name is Dakota Reilly, and I am a college student living in New York City. I was diagnosed with CMT1A at the age of eleven. I have tried different methods to address my symptoms and improve my quality of life; exercise—specifically weight training—has been one method with which I have had some improvements in my strength, balance, and extension of time before fatigue sets in during physical activity.
Q: How did you find the AlterG treadmill?
A: I learned about the AlterG from Estela Lugo, a contact I met through the Hereditary Neuropathy Foundation. Estela recommended a physical therapist who had an AlterG machine in a location close to where I live.
Q: What health benefits have you experienced by using the AlterG treadmill?
A: The AlterG allowed me to walk at a faster pace with longer strides.
Q: How often do you use the AlterG treadmill?
A: I had been using the AlterG on average one or two times a week. I did not have enough time in my class and work schedule to go more frequently, but I noticed more results when I was able to commit to twice a week.
Q: Do you find your CMT symptoms have improved? If so, what changes do you see?
A: Walking on the AlterG loosened up my hips, allowing me to take bigger strides when I walked. After completing a few sessions on the machine, I was able to walk at a faster pace with better balance.
Q: How long have you been using the AlterG? Can you guide us through your progress from your initial start to your current ability?
A: I began using the AlterG in Fall 2016. It is hard to see my progression because I did not use the AlterG consistently since I was balancing school and work. Also, I spent a few weeks trying to figure out what settings to put the machine on in order to have it be beneficial, but not too challenging. However, the AlterG has helped correct my walking.
Q: What advice would you give to others about the AlterG?
A: When starting the AlterG, you should make sure the facility you're using it in is familiar with CMT so they can properly guide you on how to use it. Setting the AlterG to your specific weight, height, etc. can be a bit confusing at first, so you will need assistance from someone who knows how to use this machine. You should also stick to a routine of doing it at least twice a week.
Q: How do you find an AlterG machine in your area?
A: Alterg.com allows you to type in your zip code to find local machines.
Q: Please add anything else you would like to share:
A: I would like to participate in a study because I would like to learn more about the benefits of the AlterG. Since most of the people at the location where I used it were temporarily injured athletes, I wasn't properly shown how to use the machine as someone with CMT. But I believe that, with guidance on proper machine usage and consistency of exercise, the results of using the AlterG would predictably be significantly more positive.