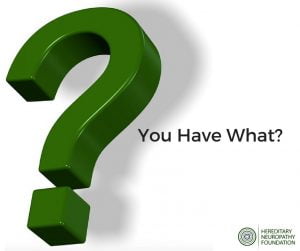 "You have what?"
This is a common response when you tell someone you have Charcot-Marie-Tooth disease. We don't just have CMT: we have a disease name awareness problem! How can we, together as a community of patients, caregivers, and healthcare professionals, work to solve this problem?
HNF HAS COME UP WITH TEN WAYS YOU CAN DO YOUR PART AND HELP ALL OF US SPREAD CHARCOT-MARIE-TOOTH AWARENESS:
1. Purchase a bumper sticker to display on your car CLICK HERE
2. "Share" posts created by HNF on social media outlets (FACEBOOK, TWITTER) — and change your profile picture every now and then to show an infographic about CMT.
3. Educate friends, family and teachers by using the "Arlene on the Scene" books (for elementary school age) AVAILABLE through HNF or showing them the Bernadette Scarduzio video, also AVAILABLE from HNF.
4. JOIN "Team CMT" and wear your shirt around town, at the gym or at events you attend.
5. Reach out to local government officials and health care providers to educate them about CMT and give them the ESSENTIAL GUIDE from HNF.
6. Host an event or START a fundraising-letter writing campaign.
7. JOIN the online Inspire Community: if you already are a member, suggest to your CMT friends and family that they join as well.
8. JOIN HNF's Global Registry for Inherited Neuropathy to improve future research efforts — and encourage others to do the same!
9. Work on your "elevator speech" — a quick, 10-15 second explanation of CMT and how it affects you.
10. Show your AFOs loud and proud!