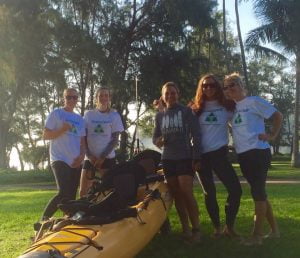 We met Jennifer Decker this past spring when she reached out to HNF about an incredible journey she was about to embark on.
Jenny set out to complete the first documented solo circumnavigation of the Big Island, Hawaii by kayak. The journey would take 20 days and course through over 300 miles of the roughest waters known in the Pacific Ocean.
And she would do it as a Charcot-Marie-Tooth patient.
This experienced nurse, seasoned surfer, hiker, scuba diver, and mountain climber not only accomplished her goal, she also raised over $10,000 towards CMT research!
HNF has asked Jenny to join us at the Patient-Centered Charcot-Marie-Tooth Summit to participate as a panelist in "Personalized Exercise Prescription." We can't wait to hear her story!
Let's learn more about Jenny in her own words:
I'm a Registered Nurse with over 10 years of experience, specializing in Medical, Neurological, Surgical, and Trauma ICU. I've been a traveling RN for the past 4 years.
Throughout my life I've tried to put my diagnosis of CMT behind me. "Out of sight, out of mind" right? I am just Jenny: swimmer, hiker, surfer, scuba diver, kayaker, and lover of any adventure placed in my path.
Allowing my diagnosis precedence in my life was like granting it too much power. I was afraid if I did, it would overcome me, or even worse….break me. I have always been slower, clumsier, weaker, and more prone to injuries than everyone else, so why would acknowledging this disease change these facts?
Recently, my thoughts on living with CMT have changed. My partner, Krystal Sentz, has played a major role in this. She always has a way of reaching for my hand on unsteady ground without making me feel helpless.
Together, we realized that this disease has actually empowered my entire life. It has been the foundation to my internal drive. It has been the fuel that allowed me to conquer things deemed impossible. These challenges have pushed me to find my own "ways" that work and allowed me to accomplish any goal I put my mind to.
My days as a "loner CMTer" came to an end when I decided to attempt the first solo circumnavigation by kayak around the Big Island of Hawaii. This was my chance to give to the CMT community and create awareness. A majority of close friends, family members, and medical co­workers have rarely even heard of this disease. The lack of awareness in the general public must be astronomical if those in my own life, a person with CMT, are unaware of it.
So on March 25th, 2016, I pushed offshore on my kayak for a 20 day, 300+ mile, wild adventure through the Pacific Ocean. I completed my journey on April 13th, 2016 for every single person dealing with CMT. I was able to raise over $10,000 towards further CMT research, created a community between other CMT patients on island, and brought media awareness to our disease.
HNF: Why did you choose this particular topic for the Summit?
Jenny:
I have been a competitive swimmer my entire life and believe this has been one of the major factors in being able to remain so active, despite my CMT symptoms.
Furthermore, being more graceful in the water than on land has always been a major incentive. In my personal experience, finding low impact, muscle strengthening exercise is key to minimizing injuries, slowing the progression of the disease, and maintaining muscle.
HNF: How has CMT affected your life?
Jenny:
CMT has empowered my entire life. I choose to say I'm "living with" CMT. This mindset allows me to see CMT as a blessing. I'm grateful for every day I can experience life on my own terms.
HNF: What do you hope attendees take away from the Summit?
Jenny:
This patient-focused Summit will bring hope to all of us suffering with CMT and I am grateful to connect with the community at such an amazing event!
HNF: Anything else you'd like to share with the community?
Jenny:
Remember, there is always a light in the dark. Sometimes you may have to go find it or you might just have to create your own!
Embrace your imperfections and no matter what your challenges are you truly can do anything you put your mind to!
Come join Jenny and learn more about exercise and the CMT patient at the Summit!