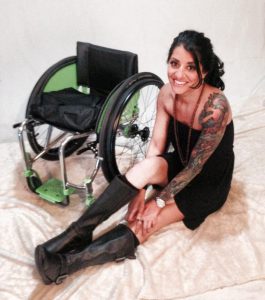 My name is Bernadette Scarduzio and I'm a CMT patient and advocate! I reside in Drexel Hill, PA with my 2 dogs.
I'm proud to say I've been working for the Hereditary Neuropathy Foundation for almost 3 years now. I started out as a volunteer for HNF, joining the fight to raising awareness and funds for CMT.
Some may recognize me from the documentary "Bernadette" that was released in 2013. HNF helped fund the film and still features it on their website for anyone who would like to purchase it.
Making that documentary, which was started in 2008, really helped me get the word out on CMT and what it's like living with a progressive illness that has little to no awareness and support. Growing up with CMT was very hard because no one knew what it was, not even doctors! I had to do a lot of explaining to countless medical professionals to get the care and treatment I needed.
Filming the documentary wasn't easy, but my goal was to help others so they wouldn't have to go through all I endured.
HNF: Why did you choose to participate in the Summit?
Bernadette:
Participating and being one of the panelists on the discussion of Public Policy at the Summit means the world to me. Not only do I get to meet others who have CMT, but I also get to meet with the doctors, scientists, nutritionists, and many others who are all trying to help us with CMT.
I've always felt awareness is our key to a cure. My next big goal is to be on "Ellen". Not only is she an inspiration to me, but she makes me laugh and helped me except being gay and disabled. I would love to thank her in person one day.
HNF: How do you manage your CMT symptoms?
Bernadette:
My CMT is progressing, but I keep on fighting it with pool therapy, land therapy, meditation, a good laugh, amazing family and friends, and my 2 dogs, Sadie and Puppy.
HNF: What do you hope attendees take away from the Summit?
Bernadette:
I'm looking forward to sharing my experience with CMT, alternative medical therapies, Medicare/Medicaid assistance, and living life to the fullest despite an illness.
HNF: Anything else you'd like to share with the community?
Bernadette:
Thank you all for the constant support!
Want to connect with Bernadette? You can find her here:
Twitter: @BernsLife13
Instagram: Berns Scar
Facebook: Bernadette Scarduzio
https://bernslife.wordpress.com/