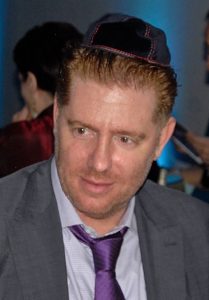 HNF invites Dr. James Nussbaum, PT, PhD, SCS, EMT, to lead us in a discussion on "Gaps in Available Patient Reported Outcomes and Barriers to Therapy Development" at the Summit.
Dr. Nussbaum is the Clinical and Research Director of ProHealth & Fitness PT OT, a physical and occupational therapy organization in New York City. He founded the organization in 2000 in an effort to provide skilled rehabilitation services to patients with all levels of abilities and disabilities.
His career was fueled by his experiences as a physical therapy patient, working for Johnson & Johnson as a health and fitness specialist, and as a volunteer Emergency Medical Technician. James returned to school after working at Johnson & Johnson and graduated from Touro College with a Masters of Science degree in Physical Therapy, and later earning his PhD in Pathokinesiology. He is also a board-certified Sports Certification Specialist.
Dr. Nussbaum sits on numerous clinical and academic advisory boards, and is an active member of the NYS Task Force on Fall Prevention. He currently is a clinical instructor for numerous Physical Therapy schools, and teaches biomechanics, human gait and kinesiology at Yeshiva University's Stern College.
His clinical and research focus has been on the effects of innovative therapy interventions in medically complex patient populations. He has numerous ongoing IRB clinical trials, collaborating with many NYC physicians, hospitals, and agencies. Dr. Nussbaum has lectured and presented his research at medical conferences throughout the US and around the world.
He has a particular interest in finding ways to enhance and document patient improvements in activities of daily living, mobility, balance, function, and most importantly, quality of life. In 2014, he became one of the first 3 certified AposTherapy providers in the US and is proudly active in educating physicians and patients alike.
Dr. Nussbaum has been the recipient of numerous awards and designations and is passionate about improving the way people live through clinical care, research, and education.
Register today! cmtsummit.org