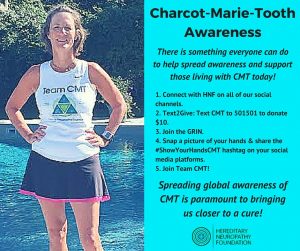 While Charcot-Marie-Tooth Awareness Month officially comes to an end today, the Hereditary Neuropathy Foundation's commitment to spreading CMT awareness carries on every single day of the year.
We are working around the clock to develop the initiatives necessary to strengthen the CMT support community, increase fundraising efforts, and support CMT research.
Spreading global awareness of Charcot-Marie-Tooth disease is paramount to the success of these initiatives and bringing us closer to a cure.
And we can't do it without YOU!
From a shared Facebook post, to hosting a CMT event, to joining our global registry, there is something everyone can do to help spread awareness and support those living with CMT today!
Here are a few ideas:
Connect with us on all of our social channels HERE.
Text2Give: Text CMT to 501501 to donate $10.
Join the Global Registry For Inherited Neuropathies HERE.
#ShowYourHandsCMT: Snap a picture of your hands, and share the hashtag and photo on your social media platforms.
Join Team CMT HERE.
It's never too late to support HNF's mission and help spread CMT awareness.
Come join us as we finish up our last day of Charcot-Marie-Tooth Awareness Month strong!