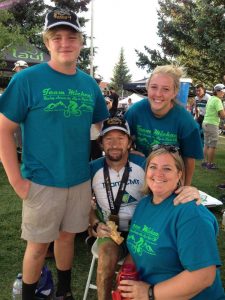 Michael Watkins completed the Leadville Trail 100 MTB race on August 15, 2015 in Leadville, CO. The trail race is widely considered one of the toughest mountain biking races in the country. Michael has been logging 200 – 225 miles on the bike each week to prepare for the big day.
Michael has a wonderful support system with his family and friends. He received a surprise from his brothers in early July to accompany him on the most difficult portions of the trail to test if he was physically able to take on the course and how his body would react and cope with the altitude. In late June, he was fitted for two custom-made low AFO's that he wore during the race to help him with the steeper rocky sections that he will most likely have to walk. These are being made at no cost to him courtesy of generous friend of his family who is a PT/Clinical Electrophysiologist.
Throughout training, Michael stayed motivated by thinking "sometimes we just have to work a little harder than most to get what we want and the harder you work at something the greater the feeling you have when it's over". That helped him throughout his training runs and took him to the finish line. Congratulations on your tremendous accomplishment!
Click here to support Michael!