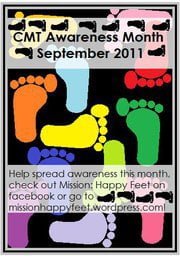 Last summer we introduced you to the Mattheiss Family of Millington, NJ. Parents Lori and Jim and children Kaitlyn and Jacob are committed to increasing CMT awareness in their community. Soon after Jacob, now 13 and an avid fencer, was diagnosed with CMT, the family joined the South Jersey CMT support group. In September 2010, during New Jersey's first CMT Awareness month, the support group held a "Dining to Donate" night in conjunction with local restaurants. The Mattheiss' spent the evening at the Sterling Diner in Longhill Township distributing balloons, stickers and brochures about CMT. The diner then contributed a percentage of their receipts plus $100 to CMT awareness.
The following spring the family held a garage sale during which Jacob announced his intent to donate his share of the profits. The local Elks Lodge matched Jacob's amount for a total contribution of $400. Last July, the Mattheiss' helped host a CMT Awareness Night at a Somerset Patriots baseball game. Over 2000 people in attendance learned about CMT and helped raise money for research through a raffle and silent auction.
This awareness and fund-raising spirit has spread through the whole family. Sixteen year old Kaitlyn, as part of her Girl Scout Gold Award project, set up a booth at a local street fair this fall to hand out bookmarks and goodie bags containing information about CMT. When Assemblyman Jon Bramnick and Assemblywoman Nancy Munoz of Morris County, NJ's district 21 stopped by her booth, they were so impressed they asked how they could help her cause. Kaitlyn also created videos about Jacob's experience with CMT.
Next up for the Mattheiss' is participation in HNF's Spin for a Cure Saturday, March 31st from 10am-12pm at The Club @ Morristown, 118 Headquarters Plaza, Morristown, NJ.