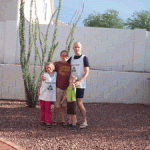 "I never liked running," confesses Air Force Master Sargent Darrell Wright.  "It's always been really hard for me because it is so boring and I didn't have any drive.  But it is a mandatory part of physical training for the military so I had to do it."  Wright, 41, grew up in Utah.  In 1992 a few years after graduating from high school he decided to join the Air Force where he earned his bachelor's degree and currently is finishing his Masters.  He works on computers and maintains communications.  "The Air Force isn't for everyone" he says.  "I think of us as the support branch of the military, supporting those on the ground." It is a role that suits him.
These days, inspired by his love of family he runs on behalf of three generations of women with Charcot-Marie-Tooth disease (CMT).  "As I started getting older, I began to have a different perspective about health. I've got two beautiful kids and I want to be around for them and be healthy for myself." He began to change his attitude about running from boring to challenging.  "When I see that I am pushing passed 7-8-9 or 10 miles, I feel good because I accomplished it.  I've pushed past my boundaries and I run 6 miles a day 4 or 5 times a week. Now I enjoy it because it relaxes me. It totally helps with stress."  A Team CMT member, Wright will run to raise funds toward research and a cure for CMT.  Along the way, he'll be cheered on by those three women; his wife Christina, his daughter Dean and his mother-in-law Gidget Hancock.
Currently, Wright and Christina 35, live in Tucson, Arizona.  Gidget revels in the fact that she had as much to do with bringing the couple together as the military did.  In the mid-90's Darrell returned from service in Japan and was stationed in San Antonio, Texas where Christina's dad was retired.  Internet chat rooms were a popular way to meet people with similar interests at that time, and Gidget was on several chat rooms promoting activities in San Antonio.  A friend of Wright's was on the same chat room.  The group decided to meet at a bar one night and  Wright's friend persuaded him to go.  Gidget didn't want to go alone, so she bribed Christina to go with her.  "I picked Darrell out for Tina," boasts Gidget. "I love him.  He's so involved, he's a doll." But the couple didn't actually meet that night. A few days later, Wright thought he was talking to Gidget on the chat room.  He told her he wanted to meet her daughter.  In fact, Christina was on her mom's account and an embarrassed Wright realized he was already talking to her.  They started dating.  "Not long after, Christina told me about CMT. She was kind of rough," he remembers.  She told Wright, "I have this and if you can't handle it, you can bolt."  "I kind of grew up in denial about having CMT" says Christina.    "I've spent almost my whole life that way because I didn't like to talk about it."
"I didn't care if she had CMT or not," say Wright  "I told her, it doesn't matter about your disease. I love you and I'm going to be there for you."  As soon as he learned Christina had CMT, he began researching and "learning everything I could. Once she told me about it and I was seeing the struggles, I wanted to learn everything to be able to support her in any way possible." Six months after meeting, they were married.  Soon after, the couple moved to northern Italy.  It would be the first of seven moves in twenty years.
The youngest of three children (her immediate older brother also has CMT) Christina first showed signs of CMT as a toddler. She was a late walker and walked on her toes. According to her mother, "I didn't know Christina had CMT when she was born.  We were living in Alaska and about that time my mother, who lived in Houston, was diagnosed with CMT. "
Thinking back to her own childhood Gidget remembers "I was always clumsy and my legs were misshapen. There were a lot of things I couldn't do.  When I was young, the teacher made me do things over and over like monkey bars, pull ups, things where the ankles and wrists were involved.  I kept falling but I didn't know why."  Her mother's diagnosis put a name to their symptoms and helped Gidget make sense of what was happening to her and her children.  "I had been angry at myself, thinking there are things everyone else could do and I couldn't.  But once I had a diagnosis that changed.  It was almost like 'How cool – I have an excuse.'  I thought I was just plain clumsy."  Gidget's accepting nature went beyond the disease, "My mother always apologized for giving me this disease.  I would tell her, 'You didn't do it. It is just part of life'."
When they were growing up, Gidget was always afraid that her kids would get hurt.  She confesses, "I went to the PE teachers and said 'if they can do it fine; if not, don't make them.'"  Christina, however, wanted to try everything.  "One time I was out with my friends and they were climbing cliffs.  I couldn't stand on the cliffs well, so I did it on all fours. I might not have been able to do things like everyone else, but hey, I still did it," she says with obvious pride.
When the couple returned to the United States they were stationed in Maryland where they welcomed their first child, a daughter named Dean.  A late walker and a toe walker just like her mom, Dean showed signs of CMT.  When she was four years old, Dean wasn't able to stand well and she started therapy.  Now eight years old, Dean is a beautiful, happy third grader.    She likes science, weather, bugs and dinosaurs and wears leg braces 24 hours a day.  She doesn't seem to let CMT bother her," says dad Wright.  "Sometimes when she's been coloring for a long time Dean will say, 'Aw man, my fingers are tired.'  But Christina doesn't tell her not to do things. She encourages Dean to always 'give it a try.'"  Dean described a game she made up for outside.  "It's called Squirrel, "she giggled.  "The boys are the nuts, the girls are the squirrels, and the girls have to chase the boys."
It's the hardest thing [for me] to see my daughter with this," he continues, a lump in his throat, "I hate to see her in any discomfort at all. She has nighttime braces now to pull her toes up and within an hour she has them off." He wishes they didn't bother her at all.
After a few years in Maryland, they moved to San Angelo, Texas where son, Darrell Jr., now four, was born.   He hasn't shown any symptoms of having CMT.  In Texas, Christina was eager to take up four-wheeling, but discovered her neck muscles could not support the weight of the helmet. Switching gears proved too hard for her hands as well.
For the last year, the family has lived in Tucson, Arizona.  The heat has been a problem for Christina.  "I get overheated because I don't have protection over my nerves. Extreme heat or cold are bad, but it is easier for me to heat up than cool down."  Christina has started to have tremors.  She experiences charley horses in her arms and legs, as well as painful muscle spasms in her tongue.  While she does try to joke, by calling herself "the twitch lady," the symptoms are painful and difficult to deal with.  Past treatment with valium worsened her symptoms.
Christina credits exercise with keeping her as active as possible and as yet, out of leg braces.  "I've had a gym membership since I was 14 years old.  In high school and college I was really into weight lifting."  She does kickboxing for 45 minutes every day, except weekends. It's difficult to do," she admits, adding "and I will not exercise in front of people." As she's gotten older "the disease is showing its face as a restriction of certain
things. Sometimes, when I want to do something my body is saying 'you can't do it.'" A recent 45 minute gym class with Darrell, Jr., left Christina unable to walk for two days despite it having been held on soft ground.  Wright's concern for his wife is evident.  "Christina is a strong person.  She wants to do anything she can to slow down the disease.   She keeps working her muscles hoping to keep that ability.  It's hard though.  Something that is normal for me will leave her in pain for days and she can't move."  Lately, Christina has begun to rely on implements to help.  "I have gizmos and gadgets.  I have all kinds of old things from my grandparents, like a weird looking jar opener.  And a push button dispenser for the shower because squeezing bottles is the worst."  Because her hands and fingers become severely bruised and painful, household chores take much longer.  She wears a bulky hand/wrist brace, but only at night, finding it interferes with everything she must do during the day.  She can no longer drive a standard transmission car and has switched to an automatic.
Christina copes as well as she can with her symptoms which include moderate nerve damage and pain.  What bothers her most has been her experience with doctors.  "I have to constantly go to doctors to ask for help and there is nothing they can do.  Pain medications hurt me and if I take them I can make the CMT worse.  I have to see different doctors and then I get turned into a guinea pig.  If I say I can't stand up or sit down, they say 'show me how, let me see you try.'  Then I get sent to a neurologist who says, 'You need to be seen? What for?'" She adds, "doctors say CMT is not painful and I shouldn't have pain."
Christina's experiences are echoed by her mom, Gidget.  At 60 Gidget's symptoms have affected her legs, ankles, feet and hands.  She still has good movement of her arms, although she has had to give up crocheting because her hands hurt too much.  "The doctors say CMT doesn't hurt.  They say the pain I feel is secondary because of compensating for the body parts I can't use.  And they say, 'when I hit your knee [to check reflexes] it doesn't do anything and doesn't cause you pain.'  They don't know what they are talking about.  I have never had that sensation in my knee and it does hurt."   Her pain extends beyond the physical to emotional.  "I know you won't put this in," she challenged, "but the doctors are full of crap.  Most neurologists don't know what CMT is.  Once in a great big while you will find someone who knows.  Someone who won't leave the room and bring back more doctors like I'm the guinea pig; making me walk, squat, move around while everyone watches." She hopes greater awareness and understand of CMT will help others avoid such uncomfortable situations.
It is one of the reasons Wright is running to raise funds. "I know how hard it is and emotional it is to live with CMT.  There are so many aspects to it.   I'm inspired by other people's accomplishments. I watch people do triathlons and can't believe they can do that.  People like [Team CMT founder] Chris Wodke and other paraolympians who can push themselves through it all."  Wright admits he prefers riding bikes to running. "Way before I ran, I would ride my bike. But, my wife can't run because of the pain  so I'm going to do it as a way to raise funds and help."  Wright's efforts are appreciated, especially by his family.  "I think," said an adorable smiley Dean, "that it is very nice of him to ride his bike." That is probably all the motivation Wright needs.
In this season of gratefulness and giving, thank you for considering a donation to any of the wonderful Team CMT members at: http://hnf.donorpages.com/TeamCMT/DarrellWright/