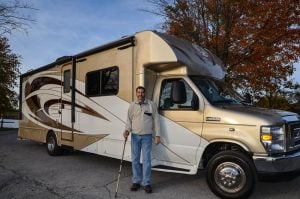 On December 1, 2016, Richard Cole (Rick) will be starting life on the road in an RV–and his road-trip will help spread awareness for Charcot-Marie-Tooth (CMT). His solo travels around North America will present new challenges to those he already faces every day while living with CMT.
Rick was diagnosed with CMT Type 2 in 1997. Both of his sisters are completely "disabled" by CMT, and his nephew and two cousins also have the disease.
Rick decided to take this journey to do some advocacy work for CMT'ers, and also help others with disabilities live the RV lifestyle. Rick will be documenting his travels on his website, and he plans to shoot some video segments along the way so he can share all of his successes with us via his weekly blog.
Rick has not committed to any specific destinations on his journey–instead, he has decided to let the new people he meets along the way guide his travels.
HNF is excited that Rick will be documenting this amazing journey and sharing his experiences weekly with the CMT community.