Written by Diana Struthers, Marvin's Partner
Charcot-Marie-Tooth disease affects about 2.8 million people in the world. There are many forms of CMT disease, as well as different ages of onset; some more severe than others. Most of us have heard of bracing, surgeries, physical therapy and occupational therapy, but there is one more form of therapy that can not only make our lives better physically, but also emotionally: A service dog!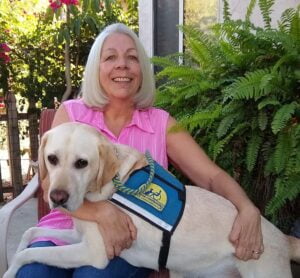 As my children grew and the last one left for college, I realized that being alone in a two-story house was probably more than I could handle, I had stopped work 10 years before due to my CMT. My limbs continued to weaken, and walking, as well as balance, was difficult. My hands would no longer grip well, nor could I manage fine motor skills. Although I tried to stay active in seeing friends, volunteering, and gardening, I found my world shrinking smaller and smaller, as I stayed home more and more.
Now thanks to Marvin, my Canine Companions for IndependenceⓇ service dog, my life is so much fuller. Marvin provides assistance in many everyday tasks that cause me pain, such as tugging the laundry basket outside so I can hang up my clothes. He also opens and closes doors, cabinets and the refrigerator. One of the most valuable things he does is pick up things I've dropped, like my keys or phone. He will also carry small bags or my clutch when needed.
While Marvin is trained in more than 40 commands, having him at my side has caused an even bigger impact emotionally. With Marvin, I feel confident, able to go out into the world knowing that Marvin can help me and that I won't need to ask for assistance. Marvin brings out the best in me and others. Instead of people focusing on my disability, they are focused on this incredible dog. I know each time we go out, I will have multiple discussions about Marvin. I actually met several new friends this way.
Marvin can go with me any place the public is allowed. He is an avid traveler, having been on trains, planes, cars and buses; always the perfect gentleman. My activity level, as well as my quality of life, has increased due to Marvin. I now travel more, visiting friends and family, as well as taking a few vacations I'd always dreamed about but could never have done without Marvin at my side! Marvin and I volunteer with hospice and visit care facilities weekly. We also volunteer with the SPCA and provide care to neonatal kittens without mothers. Marvin loves each and every kitten we have raised. Marvin is so much more than a dog to me. He is my best friend, my companion and my assistant. He has given me back my life.
Canine Companions for Independence is a 501(c)(3) nonprofit organization that was founded in 1975. It helps people with disabilities by providing them with expertly-trained assistance dogs and ongoing support to ensure quality partnerships, all at no cost to the recipients.
Each assistance dog spends their first year and a half with volunteer puppy raisers learning basic commands and being socialized. Then they are returned to Canine Companions to move on to their six to nine months of professional training at one of the six regional Canine Companions training centers across the country. Once the dog has completed his/her training and a candidate has reached the top of the waitlist, the magic begins! They are brought together for a two-week group class known as team training. At one of the regional centers, the new owner will be provided a private room with two beds (for you and your support person) as well as a private fully accessible handicapped bathroom. There is a large group kitchen, living room and several training rooms. Here, you will learn to manage the assistance dog's behavior, to direct the dog in commands he has learned, and to assume responsibility for the health and well-being of your dog.
On the third day, pre-matches happen. The staff has watched each person with the dogs over the previous days. They know each individual dog's strengths, as well as each candidate's individual needs. Now after watching the interactions with each dog, the patient is introduced to the dog that is going to change his/her whole life! They tell people not to have a preconceived notion of the dog they will get…of course not! I silently hoped for a black, cuddly, female. Then, up strutted Marvin, a yellow male with a wagging tail who prefers to show his love by sitting his boney butt on my feet, and offer an occasional lick to the face. I cried with joy meeting my new friend. Our match is so perfect. He is so much like me, a bit of an attitude but willing to give his all. His love is deep and unconditional. Together, we greet each day head on, ready to meet the challenges awaiting us!
To see if a CCI dog is right for you go to: cci.org