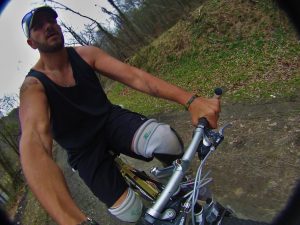 I just love this time of year. Spring is in the air and everything is coming back to life again, finally.  Birds singing, warm breezes blowing, and sweet smells filling the air. This time of year is easier for me to handle considering I have Charcot-Marie-Tooth (CMT) disease.
On May 3rd I will be in New York and participate in the TD Five Boro Bike Tour. I will be riding with Team CMT to raise awareness and help in finding a cure for CMT, the most common hereditary neurological disorder affecting 1 in 2500 people in the US. This disease makes life a little more trying every day, offering new challenges as progression kicks in. I am amazed beyond words to have the opportunity to make a difference in our CMT community and zero in on a cure.
As I prepare for the ride in the upcoming weeks I often find myself a little less than average, feeling the ill effects of CMT and other issues affecting my body. I discovered the help I need to push through and my friends that share the struggle with me. I open up social media and read stories of the struggles of people, people I call my friends. lf I have the chance to help change the lives of the people I care about you best believe I am going to pedal for it!